Recipes
Empanadas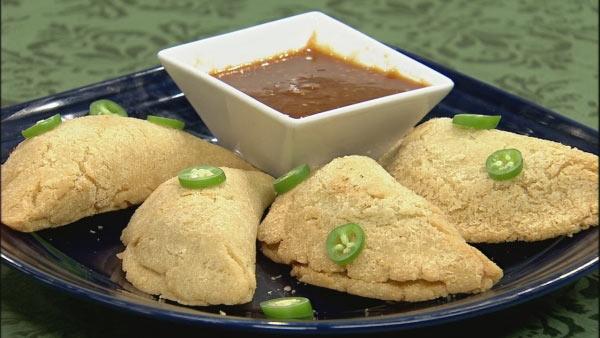 Servings: 12-14
Difficulty: Moderate
Time:
Provided by: Chef Chris Koetke
1 cup diced red boiling potatoes
2 Tablespoons olive oil
1/2 cup finely diced onions
3/4 cup finely diced red pepper
1 clove garlic, minced
1/2 teaspoon salt
1/4 teaspoon black pepper
1/4 teaspoon ground cumin
1/8 teaspoon cayenne
1/2 cup diced seeded tomatoes
1/2 lb. ground beef
1 green onion, minced
2 Tablespoons minced cilantro
2 teaspoons lime juice
Masa for empanadas (recipe below)
Directions
1. Boil potatoes until soft.
2. In a large sauté pan over moderate heat, sauté onions and red peppers in olive oil until softened (about 5 minutes).
3. Add garlic, salt, black pepper, cumin, and cayenne, and cook for 1 more minute.
4. Add tomatoes and cook for several minutes.
5. Add beef and cook until it is lightly browned and cooked completely.
6. Remove from heat and lightly smash in the potatoes. Add green onion, cilantro, and lime juice. Let cool completely.
7. To make the empanadas, take about ¼ cup of the masa, roll it into a ball, and place between two pieces of plastic wrap. Flatten the ball into a circle until it is less than ¼ inch thick (about 4 inches in diameter).
8. Remove the top piece of plastic wrap and place a heaping Tablespoon of empanada filling in the center of it. Fold the empanada over keeping the meat encased in the masa. Seal the edges carefully.
9. Once all the empanadas are made, fill a moderately sized sauté pan with about ½-inch of vegetable oil. Heat the oil until it is very hot, but not smoking. Fry the empanadas until they are browned on both sides.
10. Remove the empanadas from the oil and place on a plate lined with paper towels. Serve hot with your favorite salsa or on their own.
Masa for Empanadas:
3 cups corn masa
2 1/4 cups chicken broth
1 1/2 Tablespoons vegetable oil
3/4 teaspoon salt
1. Mix all the ingredients until homogenous.