Recipes
Empanadas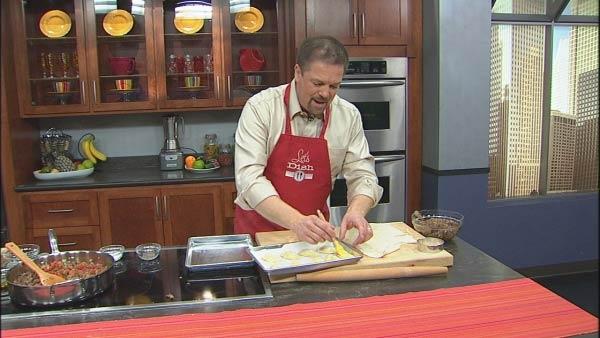 Servings: 36 Empanadas
Difficulty: Moderate
Time:
Provided by: Chris Koetke
1/3 cup sliced almonds
2 Tablespoons olive oil
1 pound ground sirloin
2 teaspoons salt
1 1/2 teaspoons ground black pepper
1 1/2 cups chopped onion
2 Tablespoons minced garlic
1/3 cup golden raisins, roughly chopped
1 &frac12
cups diced canned tomatoes, drained
2 Serrano chilies, seeded and finely diced
Juice of two limes
1 teaspoon cumin
1/4 teaspoon ground cinnamon
2 Tablespoons chopped Italian parsley
2 packages frozen puff pastry, defrosted (4 sheets)
2 large egg yolks + 1/2 teaspoon water (egg wash)
Directions
1. Preheat oven to 375 degrees.
2. Toast almonds on a sheet pan until lightly golden brown, about 5-8 minutes. Allow to cool. Set aside.
3. In a large saute pan, heat 1 Tablespoon olive oil over medium high heat.
4. Brown ground sirloin with 1 teaspoon salt and 1/2 teaspoon pepper. Cook completely (approximately five minutes). Remove the cooked meat from the pan and reserve.
5. Return pan to medium heat with 1 Tablespoon olive oil.
6. Add onion, 1 teaspoon salt, and 1 teaspoon pepper. Saute for 5 minutes until onions are lightly brown.
7. Stir in garlic, raisins and almonds and cook for 2 minutes.
8. Return browned meat back to the pan. Stir in tomatoes, chilies, lime juice, cumin, cinnamon, and parsley. Cook 10 minutes, until all the excess liquid evaporates. Adjust seasoning and cool completely before assembling empanadas.
9. Roll out puff pastry just enough to be able to cut out 9 to 3 1/2 inch circles per sheet.
10. Moisten the outer edge of each circle with egg wash. This will help seal the empanadas. Spoon a heaping teaspoon of filling in the middle of each circle. Fold the dough in half over the filling and press edges. Using a fork, crimp the edges of the empanadas. Any extra filling can be frozen for later use.