Recipes
Double Layer Frittata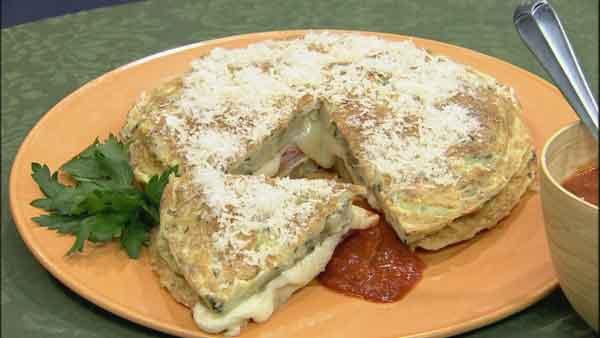 Servings: 4
Difficulty: Moderate
Time:
Provided by: Chris Koetke
8 eggs
2 Tablespoons olive oil
2 cloves garlic, minced
1 large russet potato, microwaved or baked and diced (about 2 cups)
1 teaspoon salt
1/2 teaspoon black pepper
3 Tablespoons minced fresh basil
2 oz. (about 1/3 cup) grated parmesan
4 oz. thinly sliced ham
4 oz. sliced mozzarella
1 cup of your favorite tomato sauce, warmed
Directions
1. In a bowl, whisk eggs until homogenous. Reserve.
2. In a non-stick sauté pan over moderate heat, sauté garlic in oil just until it starts to brown.
3. Add the potatoes to the pan and continue cooking until they start to brown. Remove from pan and let them cool slightly.
4. Add the cooled potatoes to the eggs along with the salt, black pepper and basil.
5. In a 10-inch non-stick sauté pan over moderate heat with 1 Tablespoon of oil, pour in half of the potato and egg mixture. Mix gently for about 20 seconds. Cover the pan and continue to cook for several minutes or until the frittata has solidified and browned. Turn the frittata over and cook briefly on the other side.
6. Transfer the frittata to a serving plate. Top with the mozzarella, ham, and half of the parmesan. Put the plate in a 250° F oven.
7. In the meantime, cook the remainder of the egg and potato mixture just as with the previous one. When it is done, remove the plate from the oven. Place the second frittata on top of the first. Sprinkle with the remaining parmesan.
8. To serve, cut into wedges and serve with tomato sauce.