Recipes
Dinner South of the Border Wrap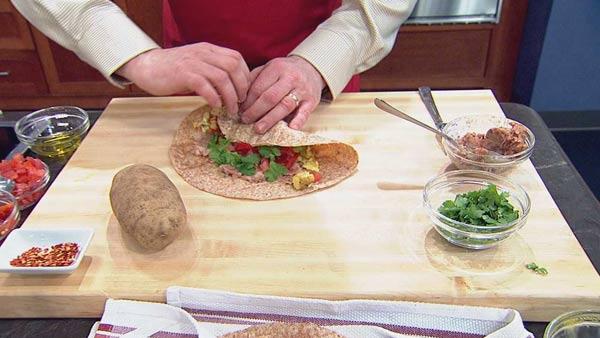 Provided by: Chris Koetke
2 each russet potato
1 tablespoon olive oil
1/2 cup onion, diced
Several pinches of chile flakes
4 each egg
1/8 teaspoon salt
15 ounces canned black beans, drained and rinsed
12 ounces roasted red pepper
1/2 cup tomato, diced
4 each tortilla
4 ounces salsa
1 cup cilantro leaves, whole
Directions
Poke each potato several times with a fork. Microwave for 7-9 minutes or until the potatoes are tender. Remove from microwave and dice.
In a non-stick saute pan, saute onion in olive oil until translucent. Add chile flakes and potatoes.
Smash the potatoes lightly with the back of a spoon and contintue sauteing until lightly browned. Add eggs and salt and stir and cook until the eggs are cooked through. (Once the eggs start to solidify, which will happen quickly, try to keep them together instead of scrambling them. It will be necessary to turn the egg/potato mixture over once.) Remove from saute pan.
In the same saute pan, add beans and heat while smashing them with the back of a spoon. Remove from heat when hot.
Heat the tortillas over a flame until lightly charred and hot. Fill with eggs, beans, red peppers, tomato, cilantro and salsa to your taste.
Per Serving (excluding unknown items): 502 Calories; 15g Fat (26.4% calories from fat); 21g Protein; 71g Carbohydrate; 12g Dietary Fiber; 212mg Cholesterol; 940mg Sodium. Exchanges: 4 Grain(Starch); 1 Lean Meat; 2 Vegetable; 2 Fat.