Recipes
Curried Vegetable Pot Pie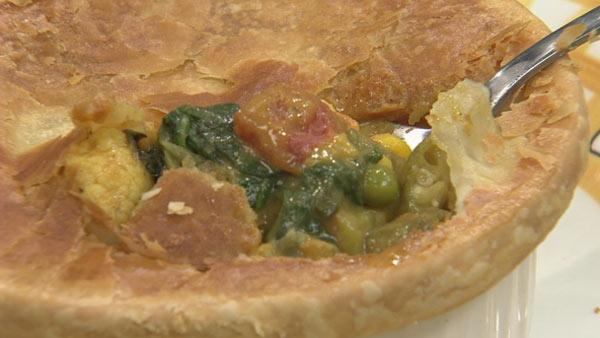 Servings: 6
Difficulty: Moderate
Time:
Provided by: Chris Koetke
4 Tablespoons unsalted butter
3 Tablespoons sliced leek (cut in half and then cut into 1/4-inch slices)
2 garlic cloves, minced
1 Tablespoon minced fresh ginger
1/3 cup flour
1 teaspoon kosher salt
1/2 teaspoon ground black pepper
1 Tablespoon ground coriander
1-1/2 teaspoon ground cumin
3/4 teaspoon ground turmeric
1/2 teaspoon cayenne
1/2 teaspoon cinnamon
1 1/2 cups low sodium vegetable broth
1/2 cup whole milk
1 Tablespoon canola oil
32 oz. baby spinach
12 oz. frozen mixed vegetables
12 oz. frozen cauliflower florets
12 oz. frozen cut okra
1 15-1/2 oz. can chickpeas, drained and rinsed
2 russet potatoes, diced and boiled in water just until al dente
1 14-1/2 oz. can diced tomatoes
1 Tablespoon tomato paste
1 Tablespoon soy sauce
1 t kosher salt
1/2 teaspoon ground black pepper
1 large egg beaten with 1 Tablespoon cold water (egg wash)
2 sheets Pepperidge Farm puff pastry, thawed, but still cold
Flour to roll out the dough
Directions
1. Preheat oven to 375°F.
2. In a medium saucepot, melt the butter over medium high heat. Once the butter has melted add leeks and cook until they are tender (about 4-5 minutes). Add the garlic and ginger and cook for another minute.
3. Whisk in the flour, 1 teaspoon salt, ˝ teaspoon black pepper, coriander, cumin, turmeric, cayenne, and cinnamon. Cook for 2 minutes stirring constantly to cook off the raw flour taste.
4. Add the vegetable broth and milk. Whisking constantly so that you don't develop lumps in the sauce, bring the sauce to a boil. Lower the heat and simmer the sauce for 5 minutes, stirring occasionally. Remove from heat.
5. Heat 1 Tablespoon canola oil in a large sauté pan. Cook the spinach until just wilted. Remove from heat and squeeze out as much moisture as possible. Set aside.
6. Meanwhile, in the microwave defrost the mixed vegetables, cauliflower and okra and heat until barely warm.
7. In a large bowl, combine the mixed vegetables, cauliflower, okra, chickpeas, par-cooked potatoes, diced tomatoes, tomato paste, soy sauce, 1 teaspoon of salt, and ˝ teaspoon of black pepper. Pour the warm sauce over the top and stir to combine.
8. Divide the spinach evenly in the bottom of 6, 16 oz. ceramic, oven-proof dishes. Spoon the curried vegetable mixture on top of the spinach. Place these dishes on a rimmed cookie sheet to catch any drips during baking.
9. Roll out the puff pastry sheets to 10 X 10" square using flour on the board to keep the pastry from sticking. Cut out circles 2 inches larger than the diameter of the top of each bowl.
10. Brush the outside and top rim of each ceramic bowl with egg wash. Place a puff pastry circle on the top of each bowl, firmly pressing it to the sides brushed with egg wash. Brush egg wash on the top of each piece of puff pastry. Cut several slits into the top of the pastry to create vents for the stream to escape.
11. Bake for 50 minutes or until golden brown and the internal temperature is 165°F.
12. Let rest for about 5 minutes before serving.