Recipes
Curried Lamb Shanks with Eggplant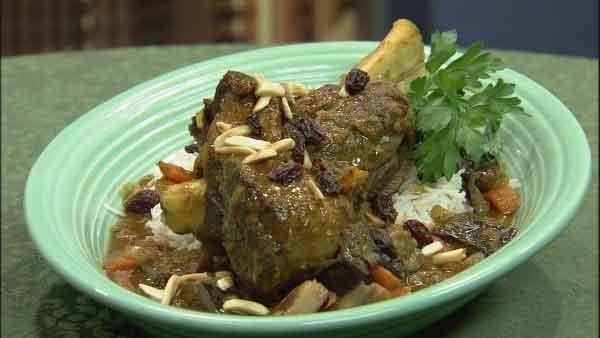 Servings: 4
Difficulty: Moderate
Time:
Provided by: Chris Koetke
4 lamb shanks (about 1 1/2 lbs. each)
1 teaspoon salt
1 teaspoon ground black pepper
6 tablespoons olive oil
1 1/2 cups diced onions
1 1/2 cups diced carrot
4 1/2 tablespoons ground curry powder or garam masala
2 teaspoons ground coriander
2 teaspoons whole cumin seed
1/2 teaspoon cayenne
2 bay leaves
4 round tomatoes, cored and cut into 1/8's
Zest of 1/3 lemon
6 cups chicken broth
1 lb. eggplant, cut into about 1-inch chunks
1/4 cup toasted slivered almonds (find toasting instructions below)
1/4 cup golden raisins
Directions
1. Season lamb shanks with salt and pepper.
2. In a large braising pan, brown lamb shanks in 2 tablespoons of oil over high heat. When the lamb shanks are browned, remove them and reserve.
3. Add onions and carrots to the pan and sauté until lightly golden brown.
4. Add curry powder, coriander, caraway seed, and cayenne. Cook for 30 seconds or just until you can smell the spices.
5. Immediately add bay leaves, tomatoes, lemon zest, chicken broth, and reserved lamb shanks. Bring to a boil, reduce heat to a simmer, cover, and place in a 325° F oven for 2-2 1/2 hours or until the meat is very tender.
6. Remove the meat from the liquid, skim to remove excess fat, and boil until the liquid is about half of its original volume.
7. Meanwhile, sauté the eggplant in a hot sauté pan in the remaining 4 Tablespoons olive oil. Saute until the eggplant is softened and lightly browned.
8. Return the lamb shanks to the reduced sauce along with the sautéed eggplant. Simmer for about 15 minutes.
9. Serve the lamb shanks with basmati rice and plenty of sauce. Sprinkle with raisins and toasted almonds* and serve.
*To toast the almonds, place them on a baking sheet and put in a 350° F oven. Bake for about 5-8 minutes or until they turn a light brown color. Remove from baking sheet and let cool.