Recipes
Cucumber and Yogurt Soup with Spiced Herbs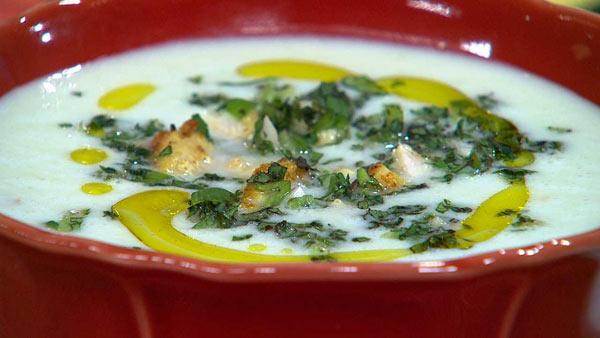 Servings: 4
Provided by: Chris Koetke
2 T. minced fresh ginger
2 cloves garlic, minced
1/3 c. light coconut milk
1 seedless cucumber, peeled and chopped
24 oz. plain non-fat yogurt
1/4 tsp. salt
2 T. lemon juice
1/4 c. chopped cilantro
2 T. finely chopped green onion
1 T. finely chopped mint
1/2 Serrano chile, minced
4 tsp. extra virgin olive oil
Curried chicken breast, cold and diced
Directions
1. In a blender, process ginger, garlic, and coconut milk until the garlic and ginger are finely ground.
2. Add cucumber, yogurt, salt, and lemon juice. Process until smooth. Hold in refrigerator until needed.
3. In the meantime, mix together cilantro, green onion, mint, and chile.
4. To serve, ladle soup into chilled bowls. Sprinkle with spicy herb mixture. Drizzle 1 teaspoon of olive oil on top of each bowl.
Curried Chicken Breast
Ingredients:
8 oz. boneless skinless chicken breast
1 tsp. hot curry powder
1/4 tsp. salt
2 tsp. olive oil
1. Season chicken breast with curry powder and salt.
2. Saute chicken in non-stick sauté pan in olive oil until cooked through.
Nutritional Analysis: Cal: 260, TFat: 9gm, Sat F: 2gm, Chol: 36mg, Sod: 446mg, TCho: 21gm, Fib: 2gm, Pro: 25gm