Recipes
Crab Cakes with Citrus Mustard Sauce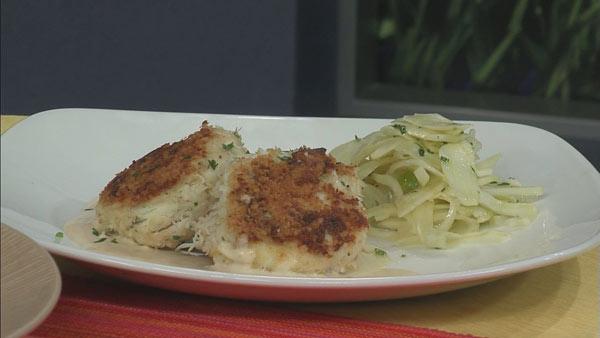 Servings: 6
Provided by: Chris Koetke
1 pound fresh jumbo lump crabmeat
2 egg whites
2 Tablespoons skim milk
2 pinches salt
2 Tablespoons breadcrumbs
1 Tablespoons chopped parsley
2 dashes of Tabasco sauce
1/3 cup light mayonnaise
2 teaspoons Dijon mustard
6 Tablespoons freshly squeezed tangerine juice
Several pinches cayenne pepper
3/4 teaspoon minced chives
1 small fennel bulb, washed
1 t. chives, minced
Pinch dry mustard
1/4 teaspoon salt
1 teaspoon sugar
1 Tablespoon olive oil
Juice of 1/2 orange
2 teaspoons lemon juice
Panko breadcrumbs for coating the crab cakes
2 Tablespoons extra virgin olive oil for sauté
ing the crab cakes
Directions
1. Gently fold together crab meat, egg whites, skim milk, salt, breadcrumbs, parsley and Tobasco sauce for the crab cakes.
2. Divide the mixture into 6 equal parts. Form each into a disk shape about 1" thick.
3. Place panko crumbs into a swallow dish. Gently coat each crab cake in panko crumbs. Let rest for several minutes to allow it to solidify.
4. Meanwhile, mix together mayonnaise, mustard, tangerine juice, cayenne pepper and minced chives for the citrus mustard sauce. If made in advance, place in the refrigerator in an airtight container until ready to use.
5. Prepare the fennel salad by first separating the bulb from the stems. (The stems are discarded.) The bulb is then halved; core removed, and sliced paper thin. Mix the thinly sliced bulb together with chives, mustard, salt, sugar, olive oil and orange juice. This is best mixed up at least 2 hours in advance.
6. Saute crab cakes in a non-stick sauté pan over medium heat in olive oil. The crab cakes are done when golden brown on both sides and heated through.
7. Transfer to serving plates. Serve with fennel salad and spoon sauce around crab cakes.
Nutritional Analysis:
Cals: 198, T.Fat: 10gm, S.Fat: 2gm, Chol: 64mg, Sod: 504mg, T.Carb: 10gm, Fiber: 1gm, Pro: 16gm