Recipes
Corned Beef, Cabbage and Root Vegetables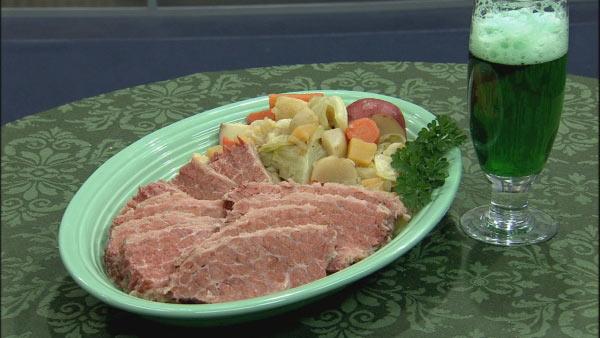 Servings: 8
Difficulty: Easy
Time:
Provided by: Chris Koetke
4 lb corned beef
1 12-oz bottle Guinness
5 bay leaves
1 tablespoon coriander seeds
2 whole allspice berries
2 dried chile de arbol, broken into pieces
Cheesecloth
1 lb turnip, cut into eighths
1/2 lb rutabaga, large dice
1 lb red skinned potatoes, quartered
1/2 lb carrots, peeled &
cut into 2-inch lengths
1/2 lb parsnip, large dice
2 lb cabbage, cored, quartered, and each quarter cut in half
Salt and pepper, to taste
Directions
1. Place corned beef in a large wide pot. Cover with stout and enough water to cover by 1-1/2-inch.
2. Place spices in a piece of cheesecloth and tie into a ball, securing it tightly with string. Add to beef.
3. Bring to a boil. Reduce heat, cover and simmer until tender, about 2-1/2 hours.
4. Remove beef and set aside.
5. Add all the vegetables to the cooking liquid. Bring to a boil. Reduce heat and simmer until the vegetables are tender, about 30 minutes.
6. Season vegetables to taste.
7. Using a slotted spoon, transfer vegetables to a serving platter. Keep warm.
8. Return beef to hot liquid until just warmed through, about 5 minutes.
9. Remove meat and cut into 1/4-inch slices (against the grain). Place on platter with vegetables.
10. Serve with mustard and horseradish sauce.
Accompanying Recipe: Horseradish and Mustard Sauce