Recipes
Classic Pot Roast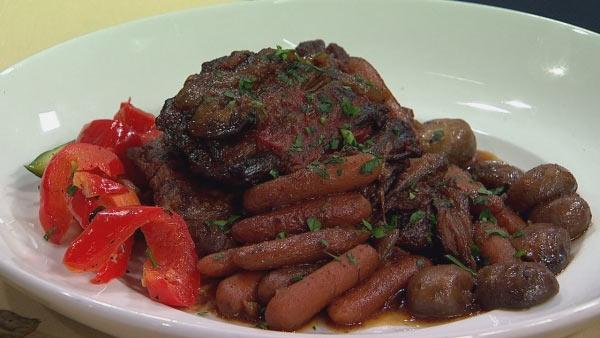 2 Tablespoons vegetable oil
4 teaspoons kosher salt
2 teaspoons ground black pepper
6 pound well trimmed beef blade roast
3 pounds thick sliced yellow onions
1 cup dry red wine
10 cloves garlic, thinly sliced
4 ounces tomato paste
1 pound baby carrots
4 branches fresh thyme
1 pound white button mushrooms
&frac12
pound shitake stems, sliced thinly
2 teaspoons cornstarch dissolved in 2 Tablespoons cold water (this may not all be used)
Directions
1. Preheat oven to 350F.
2. Heat oil in a heavy duty roasting pan over high heat.
3. Season both sides of blade roast with 2 teaspoons salt and 1 1/2 teaspoons black pepper. Once the oil is hot, carefully place the meat into the roasting pan. Brown both sides of the meat, approximately 6 minutes per side. Remove from the roasting pan.
4. Add the separated onion slices into the pan. Add 2 teaspoons salt and 1/2 teaspoon black pepper. Stir the onions to distribute the seasonings and scrape up the fond (browned bits) from the bottom of the pan. Continue cooking until the onions are soft and brown around the edges, about 10-15 minutes.
5. Add the red wine and cook for an additional 2 minutes. Remove the pan from the heat.
6. While the onions are cooking, make shallow slits in the top of the browned blade roasts and insert garlic slices into the slits.
7. Spread the tomato paste over the top of the meat.
8. Spread the onions into an even layer. Place the blade roast on top of the onion layer. Sprinkle carrots and thyme sprigs around the meat.
9. Tightly cover the pan either with the lid or heavy duty aluminum foil.
10. Roast for 1 hour. Add the mushrooms to the roasting pan. If the mushrooms are small you can add them whole, otherwise quarter the mushrooms.
11. Return to the oven and continue cooking for an additional 2 - 2 ½ hours or until the meat is fork tender.
12. Remove the meat from the braising liquid. Skim braising liquid of all fat. Bring to a boil and add just enough cornstarch slurry to thicken the liquid.
13. Serve the pot roast with thickened braising liquid.
Nutrional Analysis: Cals: 587, Tfat: 21gm, Sfat: 7gm, Chol: 120mg, Sod: 467mg, Carb: 46gm, Fib: 9gm, Pro: 57gm