Recipes
Cioppino Seafood Stew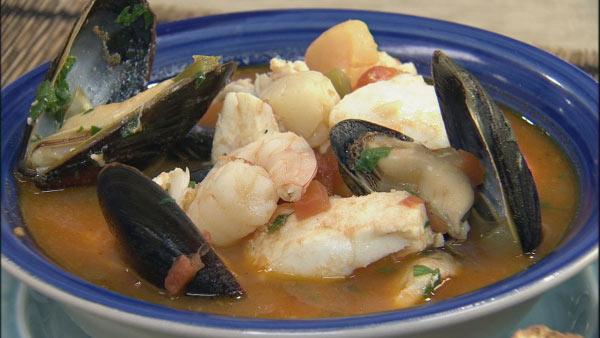 Servings: 6 to 8
Difficulty: Moderate
Time:
Provided by: Chef Chris Koetke
1/2 cup extra virgin olive oil
1 1/2 cups diced green pepper
2 cups diced onion
1 cup diced celery
5 large cloves of garlic, roughly chopped
16 oz. clam juice
1 28 oz. can diced tomatoes with juice
2 cups dry white wine
3 Tablespoons tomato paste
2 bay leaves
1/8 teaspoon chile flake
1/2 teaspoon ground black pepper
1/2 teaspoon dried oregano leaf
1 1/2 teaspoons salt
2 lbs. white fleshed fish, cut into 2-inch pieces (i.e. halibut, Alaskan cod, Chilean sea bass
1 lb. raw shrimp (21-25 size), peeled and deveined
8 oz. bay scallops
1 lb. mussels
4 to 8 oz. crab meat (the best you can buy)
1 Tablespoon lemon juice
3 Tablespoons minced parsley
Directions
1. In a large pot, sauté green pepper, onion, celery, and garlic in olive oil over moderate heat. Cook for about 10 minutes or until the vegetables are very soft, but not browned.
2. Add clam juice, canned tomatoes and juice, white wine, tomato paste, bay leaves, chile flake, black pepper, oregano leaf, and salt. Bring to a boil, reduce heat, and simmer for 15-20 minutes.
3. Add the fish and simmer for 5 minutes.
4. Add shrimp and scallops and simmer for 5 minutes.
5. Add mussels and crab and simmer just until the mussels open.
6. Add lemon juice and parsley and serve with plenty of sour dough bread or warm garlic bread.