Recipes
Chocolate Surprise Cupcake Bar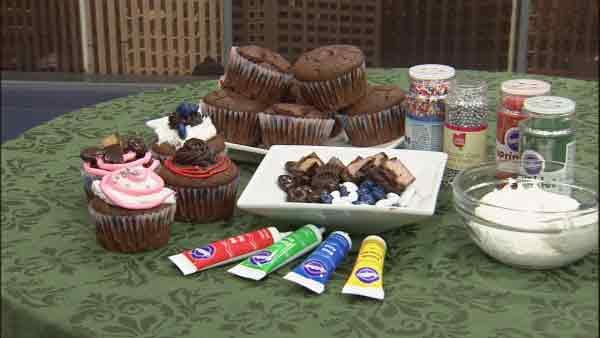 Servings: 12 cupcakes
Difficulty: Moderate
Time:
Provided by: Chris Koetke
1-1/2 softened sticks butter
1 cup brown sugar
1/2 cup granulated sugar
3 room temperature eggs
1/2 teaspoon vanilla extract
1-1/2 cups flour
2/3 cup cocoa powder
1/4 teaspoon salt
2 teaspoons baking powder
3/4 cup milk
1 Tablespoon instant coffee
Assorted "surprises" to put inside the cupcakes such as: maraschino cherries, canned pineapple pieces, whole walnut or pecan halves, chocolate kisses, or miniature Reese's peanut butter cups or chocolate coated mints
Assorted toppings and icings
Directions
1. In a mixer with the paddle attachment, mix together on medium speed butter, brown sugar, and granulated sugar until the sugar is dissolved and the mixture lightens.
2. Add vanilla and eggs one at a time, making sure that each one is incorporated before adding the next.
3. In a separate bowl, combine flour, cocoa powder, salt, and baking powder.
4. Mix dry ingredients into the butter/egg mixture. Mix until just combined. Scrape down the sides of the bowl.
5. Mix together milk and instant coffee. Pour into the mixer and mix just until combined.
6. Line a muffin tin with cupcake papers or silicon liners (more ideal). Place a heaping tablespoon of batter in the bottom of each. Place a "surprise" in the center of the batter, pressing it down somewhat. Cover with the remaining batter.
7. Bake for 20-25 minutes in a 350° F oven. Remove from oven and let cool.
8. When ready to serve, present that cupcakes along with a wide assortment of sprinkles, different colored icings (with small knives for spreading), small tubes of colored icing for writing, etc. You can also place some additional icing in a zip lock bag with the corner cut off to act like a pastry bag. (If you have any pastry tips for pastry bags, you can also put it in the bag.)