Recipes
Chocolate Chunky Road Parfait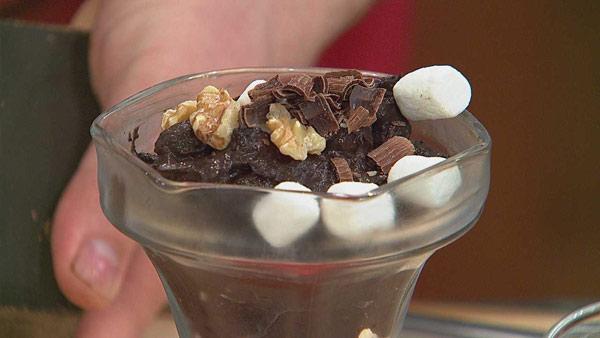 Servings: 6
Provided by: Chris Koetke
16-ounce container silken tofu
1/3 cup confectioner's sugar
1/2 cup brown sugar, packed
3/4 cup dark cocoa powder
1/2 teaspoon vanilla extract
1/4 cup semi-sweet chocolate, melted
2 cups Cubed angel food cake
1 1/2 cups mini marshmallows
1/2 cup walnut pieces
Directions
1. Place tofu, sugars, cocoa powder, vanilla extract, and melted chocolate in a food processor. Blend until smooth. Transfer mixture to a large bowl.
2. Fold in remaining ingredients and spoon into parfait glasses or decorative bowls.
3. Refrigerate for 2 hours before serving.
4. Garnish with additional chocolate shavings if desired.
Nutritional Analysis: Cal: 301 Tot fat:4g Chol: 0 Sodium: 21 mg Tot Carb: 52 g Fiber: 6g Pro: 11gm