Recipes
Chocolate Almond Pie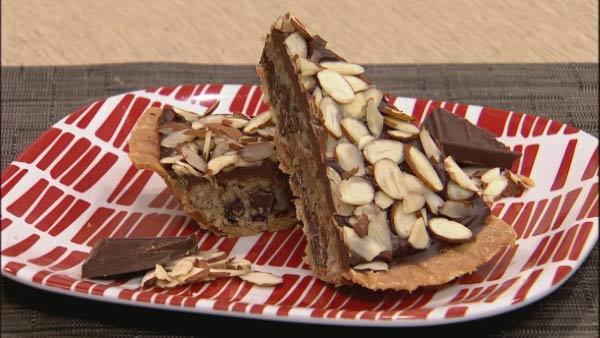 Servings: 10
Difficulty: Easy
Time:
Provided by: Chef Chris Koetke
1 9-inch store-bought pie crust (uncooked and frozen)
2 1/2 cups sliced almonds
1 teaspoon salt
1 teaspoon ground cinnamon
1 1/2 sticks butter
3/4 cup sugar
2 eggs
2 egg yolks
12 oz. high quality semi-sweet chocolate chips
1/2 cup heavy cream
1/4 cup sliced almonds as a garnish
Directions
1. Preheat oven to 400° F. Poke the frozen crust a few times with a fork and bake for 6 minutes. Remove from oven and reserve.
2. Reduce temperature of the oven to 350° F.
3. In a food processor grind the almonds finely.
4. In an electric mixer, mix butter and sugar with the paddle attachment until it becomes lighter. Add the ground almonds, salt and cinnamon. Mix until combined.
5. Add the eggs and egg yolks one at a time until each is incorporated.
6. In the bottom of the par-baked pie crust, place ¾ cup of chocolate chips in one layer. Spoon the almond mixture on top and smooth the top.
7. Bake for about 40 minutes or until almond mixture has set. Let cool.
8. Once the pie has cooled, heat the cream just to a simmer. Place the remaining chocolate chips in a bowl. Add the hot cream to the chips and mix until smooth.
9. Pour a thin layer of this chocolate mixture over the top of the pie. Tap the pie lightly on the counter a few times to remove any air bubbles. Sprinkle with additional sliced almonds and let set in the fridge for about 2 hours before serving.