Recipes
Chinese Hot Pot-5-Spice Pork Soup with Mustard Greens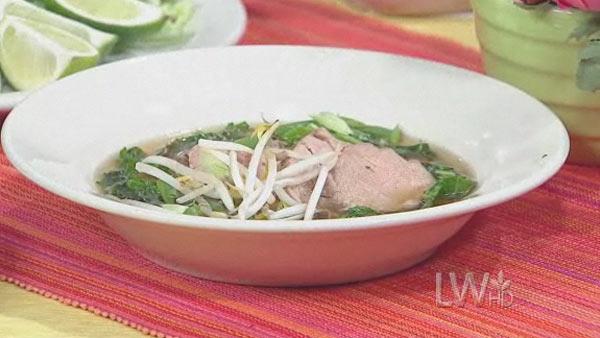 Servings: 4
Provided by: Chris Koetke
Glazed Pork Tenderloin
1/2 tsp Five-Spice powder
2 tbsp honey
1 tbsp soy sauce, low sodium
1 pound raw pork tenderloin
1 tsp salt
1 1/2 tbsp oil, olive
Directions
Chinese Greens Soup
6 cups reduced sodium chicken broth
1/2 inch ginger, peeled and sliced into coins
2 star anise
1/4 cup soy sauce, low sodium
4 cups mustard greens, sliced in thin ribbons (1/8" thick)
1/2 cup onion - julienned
Garnishes
1 bunch scallions, sliced thinly, bias
1 bunch cilantro
1 cup bean sprouts
1 jalapeno, sliced into rings
Fresh basil leaves
Lime, cut into quarters
Method
1. Mix the five spice powder with honey and soy sauce. Place pork tenderloin into a gallon zipper bag. Add five spice mixture to the bag and marinate in a refrigerator for 6 to 8 hours or overnight. Turn bag occasionally to distribute marinade.
2. Remove pork from marinade and blot excess moisture. Sprinkle all sides with salt.
3. Heat oil in a large, heavy pot and sear pork on all sides, about 3 minutes per side. Turn down heat to medium low and add stock. Cook, covered, for 8-10 minutes.
4. Remove pork from pan with tongs and set aside.
5. Wrap ginger and star anise in cheesecloth and tie with kitchen twine to form a small pouch. Add to soup, along with soy sauce, greens and onions. Bring to a simmer and cook until greens are tender, about 30 minutes. Remove pouch with ginger and star anise.
6. While soup simmers, slice thinly into small cutlets and lay onto a plate with the other garnishes.
7. To serve, ladle soup into bowls, and pass a plate of cooked pork and garnishes for guests to add to hot soup.
Nutrition Facts:
Amount per Serving
Calories 331.8
Total Fat 10.27g
Saturated Fat 2.21g
Total Carbohydrates 28.15g
Fiber 5.44g
Protein 36.64g
Sodium 1342.32mg
Christopher Koetke has been a culinary instructor at The School of the Culinary Arts of Kendall College since January 1998. In 2002, he was named Associate Dean of the Culinary School. Along with the move to the new Riverworks campus, he became Dean of the Culinary School in 2005.