Recipes
Chilled Watermelon Salad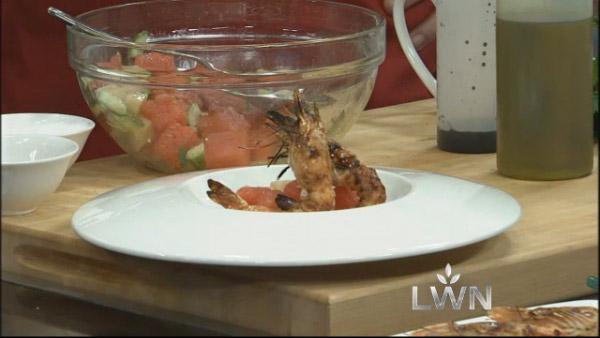 Servings: 6
Provided by: Christian Fantoni
2 lb. large diced seedless watermelon
1 lb. diced pecorino cheese (or substitute feta)
12 fresh Hawaiian blue prawns
2 sprigs fresh mint (keep top for garnish)
1 ounce of aged balsamic vinegar
1 ounce of extra virgin olive oil
Directions
1. Salt and pepper to taste.
In a mixing bowl, add diced watermelon, one julienned mint sprig, and diced cheese.
2. Top with one pinch each of salt and pepper.
3. Add most of the oil and balsamic, mix well, and move to serving bowl.
Meanwhile, grill the prawns. When cooked, place prawns on top of the watermelon salad.
4. Drizzle with remaining oil and balsamic, garnish with the remaining mint sprig, and serve.
For more information on Chef Christian Fantoni:
Restaurant Filini
Radisson Blu Aqua Hotel