Recipes
Chicken Vegetable Stir Fry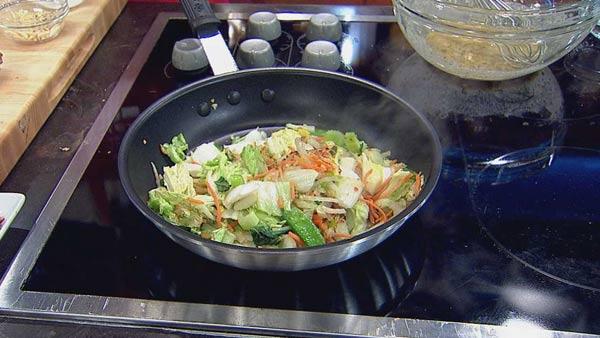 Servings: 2
Provided by: Chris Koetke
1 tablespoon sesame oil
1 tablespoon minced ginger
1 clove garlic
Several pinches of chile flakes
1/3 cup onion, thinly sliced
3 ounces carrot, chopped
2 ounces mushroom, sliced 1/4" thick
3 ounces napa cabbage, shredded
2 ounces sugar snap peas, whole
2 ounces bok choy, shredded
1 cup cooked chicken, diced
1/4 cup almonds, sliced
4 teaspoons soy sauce
1/8 teaspoon sugar
Directions
Heat a large saute pan over high heat until hot. Add sesame oil, ginger and garlic. Saute stirring constantly for I minute. Add onions and chile flake and continue sauteing and stirring for 2 more minutes or until the garlic and ginger start to brown. Add stir fry vegetable mix and cook for 3 minutes, stirring frequently, or until they are al dente.
Add chicken and almonds and cook for 2 minutes.
Add soy sauce and sugar. Mix well and taste for seasoning. Serve with rice if desired.
Per Serving (excluding unknown items): 354 Calories; 20g Fat (48.8% calories from fat); 29g Protein; 17g Carbohydrate; 6g Dietary Fiber; 60mg Cholesterol; 778mg Sodium. Exchanges: 0 Grain(Starch); 3 1/2 Lean Meat; 2 Vegetable; 3 Fat; 0 Other Carbohydrates.
Christopher Koetke has been a culinary instructor at The School of the Culinary Arts of Kendall College since January 1998. In 2002, he was named Associate Dean of the Culinary School. Along with the move to the new Riverworks campus, he became Dean of the Culinary School in 2005.