Recipes
Chicken Spinach Salad with Pomegranate Vinaigrette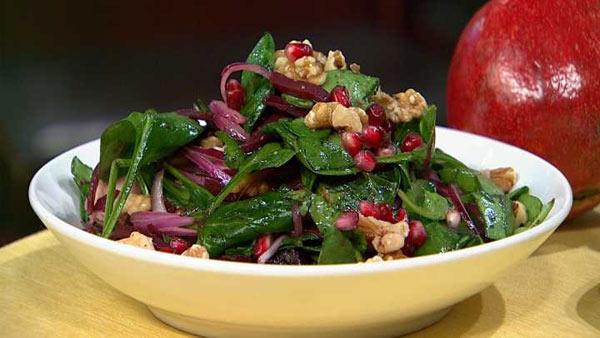 Servings: 4
Provided by: Chris Koetke
1 cup pomegranate juice
1/2 teaspoon orange zest
1/4 cup vegetable oil
2 Tablespoons extra virgin olive oil
1/4 teaspoon salt
14 teaspoon ground black pepper
9 oz. baby spinach
1 cup thinly sliced red onion
1 cup diced cooked chicken breast
15 oz. can sliced pickled beets, cut into thin strips
4 oz. dried figs, cut into a small dice
1/2 cup roasted walnut pieces*
1/2 cup pomegranate seeds
Directions
1. Put pomegranate juice and orange zeste into a small saucepan. Over high heat, bring to a boil and reduce to about 1/4 cup. Remove from heat and let cool.
2. Whisking constantly, slowly pour the two oils into the reduced pomegranate juice. Add salt and pepper. Reserve. 3. Combine in a large bowl the baby spinach, red onion, chicken breast, pickled beets, dried figs and walnut pieces. Add the pomegranate vinaigrette and toss.
4. Divide the salad onto 4 plates or bowls. Top with pomegranate seeds and serve.
Nutritional analysis: Cals: 605, T.Fat: 33gm, S.Fat: 6 gm, Chol: 43mg, Sod: 502 mg, T.Carb: 53gm, Fib: 8 gm, Pro: 18gm