Recipes
Chicken Nuggets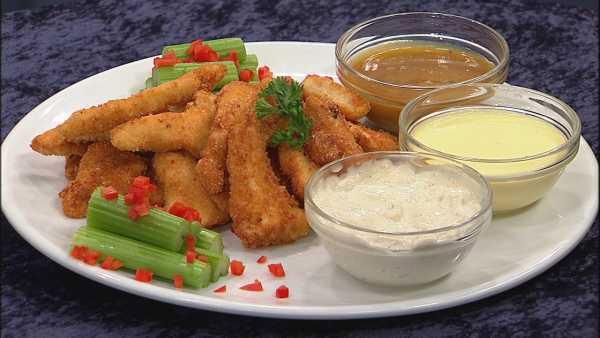 Servings: 4
Difficulty: Easy
Time:
Provided by: Chris Koetke
12 oz. chicken breasts, boneless and skinless
3 egg whites
1 1/2 Tablespoons honey mustard
Salt and black pepper
2/3 cup panko breadcrumbs
1/3 cup ground parmesan cheese (sold in a large shaker)
Assorted dipping sauces (below)
Directions
1. Cut chicken into 1/2-inch strips. Cut each strip into 2-3 inch lengths. Season with salt and pepper.
2. Combine honey mustard and egg whites.
3. Combine panko breadcrumbs and parmesan cheese.
4. Dip chicken pieces in egg white and mustard mixture, then into the breadcrumbs and parmesan mixture until well and evenly coated.
5. Saute chicken in a hot saute pan coated with a small amount of vegetable or olive oil. Saute 4-5 minutes per side until crispy, browned and cooked through. Drain well on a paper towel before serving. (To bake, place breaded chicken on a lightly greased baking sheet. Bake in a preheated 425 degree oven for about 15-20 minutes or until lightly browned and cooked through. This method will reduce the overall fat consumption, but will result in a slightly less crispy piece of chicken.)
Dipping Sauces
Mango Dipping Sauce

1 cup diced ripe mango or frozen mango chunks
1/2 cup orange juice
Juice of 1 lime
1/2 cup mayonnaise
1. Place all ingredients in a blender or food processor. Process until smooth.
2. Cover and refrigerate until ready to use.
Blue Cheese Dipping Sauce

1/2 cup mayonnaise
1/4 cup sour cream
2 teaspoons fresh lemon juice
1/4 teaspoon Worcestershire sauce
1/4 teaspoon salt
1/4 teaspoon celery salt
Several pinches ground black pepper
1/4 cup crumbled blue cheese (about 2 ounces)
1. Whisk together mayonnaise, sour cream, lemon juice, Worcestershire, salt, celery salt, and black pepper. Fold in crumbled blue cheese. Adjust seasonings.
2. Store in an airtight container until ready to use.
Maple Mustard Glaze and Dipping Sauce

1/4 cup Dijon mustard
1/4 cup maple sugar
2 Tablespoons real maple syrup
1. Combine all ingredients. Let site for 5 minutes to allow the maple sugar to dissolve. Store covered in the refrigerator until needed.
*You can certainly use ready-to-eat dipping sauces (honey mustard, ketchup, BBQ sauce, etc.) but if you have the time, try these below. They are really great and will even appeal to an older audience.