Recipes
Chicago Deep Dish Pizza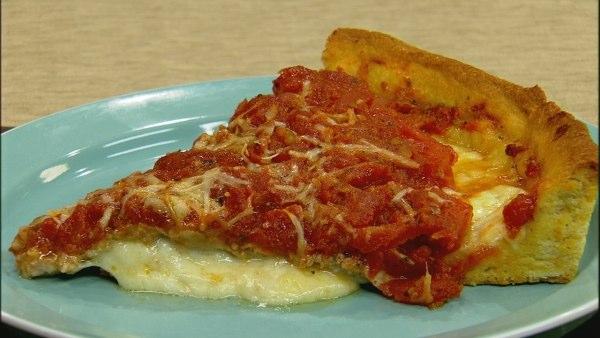 Servings: 6-8
Difficulty: Moderate
Time:
Provided by: Chef Chris Koetke
1 1/2 cups water (115 degrees F)
1 1/2 Tablespoons sugar
1 package dry yeast
4 cups all-purpose flour
1 cup cornmeal
2 teaspoons salt
3 Tablespoons olive oil
Directions
1. Combine water, sugar, and yeast in a bowl. Let it sit until it starts to froth, which indicates that the yeast is active.
2. In the mixing bowl of an electric mixer, combine yeast mixture, flour, cornmeal, salt, and olive oil.
3. On low speed using the dough hook, knead for about 4 minutes or until the dough is elastic. (The dough will be softer than a bread dough.)
4. Remove the bowl from the machine and cover with a towel. Let sit in a warm place until the dough has doubled in volume.
Assembling the Pizza
3 Tablespoons olive oil
1 lb. sliced mozzarella
1 1/2 lbs. Italian sausage
3 14.5 oz. cans diced tomato with garlic and oregano
4 Teaspoons vinegar
1/2 cup shredded parmesan
1. Pour the contents of the 3 cans of tomato in a large sauté pan. Add vinegar. Cook over high heat until almost all of the moisture has evaporated. Remove from heat and let cool.
2. Rub the olive oil over the bottom and sides of a 14-inch deep dish pizza pan.
3. Place the risen dough in the pan and press it around the cover the bottom of the pan and up the sides.
4. Layer the cheese on top of the dough. Then top the cheese with flat pieces of the sausage. Top with the tomatoes and then the parmesan cheese.
5. Place the pan on a pizza stone in a 425 degrees F for 10 minutes. (The pizza stone should already be hot in the oven.) Then reduce heat to 375 and continue baking for 40 minutes.
6. Remove from the oven, let sit for 5 minutes, and then serve.