Recipes
Chapatti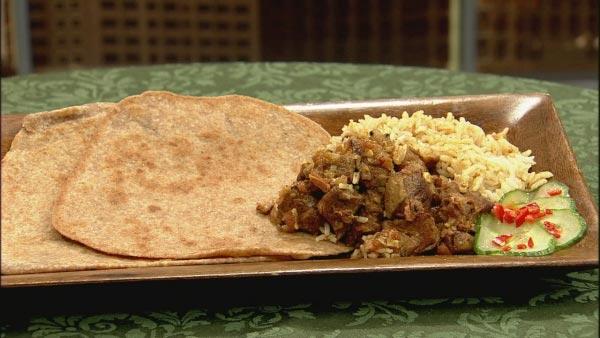 Servings: 10
Difficulty: Easy
Time:
Provided by: Chef Chris Koetke
1 cup water
1 teaspoon salt
3 Tablespoons vegetable oil
3 cups whole wheat flour
1/2 teaspoon ground cumin
1/2 teaspoon dried thyme leaf
Clarified butter (see below)
Directions
1. In the mixer with the dough hook attachment, combine water, salt, 2 Tablespoons oil, flour, cumin, and thyme leaf.
2. Mix just until the dough becomes homogeneous and slightly elastic (about 3-4 minutes).
3. Remove from the mixer, rub the dough with remaining 1 Tablespoon oil, and let rest for about 1 hour. (At this point, it can also be placed in the refrigerator for up to 12 hours, well wrapped in plastic wrap.)
4. To cook the chapattis, divide the dough into 10 pieces. Roll each piece out until it is very thin (like a tortilla) and about 7 inches in diameter. Dust the working surface with whole wheat flour to prevent sticking. Dust off excess flour from the finished chapattis.
5. Heat a sauté pan until it is very hot. Place a chapatti in the pan. Cook for about 1 minute until it is lightly browned on one side. Flip and brush the top with clarified butter. When the second side is lightly browned, flip the chapatti over again and brush the top side with clarified butter. When the side that is buttered and touching the pan is starting to smoke and is nicely browned, flip it over and cook the remaining buttered side until it too is done. (The chapatti will start to puff irregularly.)
6. Remove and serve hot.
Clarified Butter
Clarified butter is nothing more than melted butter in which the milk solids (those that float to the top) and the water (which sinks below the melted fat) are removed. This recipe will make more than is needed for the Chapatti recipe. It can be stored and covered for weeks in the refrigerator.
Ingredients:
1 stick butter
1. Place the butter in a very small saucepan, and melt gently until completely melted.
2. Remove from heat and let rest for about 15 minutes.
3. Skim the solid pieces from the top of the butter. Then slowly pour off the fat (which you will keep) until the water portion appears. At that point, stop decanting the butter and discard the water portion.
Note: Chapatti are a perfect accompaniment to the pork vindaloo recipe and help to tame the heat.
Click here for the recipe
.