Recipes
Caribbean Shepherd's Pie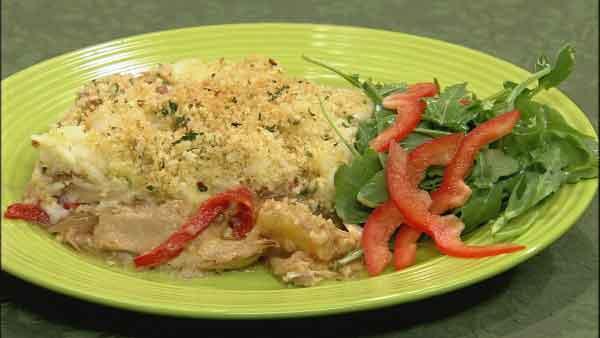 Servings: 12
Difficulty: Moderate
Time:
Provided by: Chef Chris Koetke
3 3/4 lbs. red potatoes, peeled
1 cup coconut milk
1/2 teaspoon salt
1/4 teaspoon ground black pepper
1 1/2 cup red onion, sliced
1 1/2 cup red pepper, sliced
2 Tablespoons vegetable oil
4 cups cooked chicken meat, cut into a large dice
1 15 oz. can of diced pineapple, drained
8 tablespoons Jamaican jerk seasoning
1 cup orange juice
1 cup water
2 Tablespoons cornstarch
1 cups panko bread crumbs
1/2 stick butter, melted
2 Tablespoons parsley, minced
1 cup shredded, unsweetened coconut
Directions
1. Place red potatoes in a pot and cover with cold water. Bring to a boil, reduce heat to a simmer and cook until they are fork tender. While the potatoes are still hot, drain and smash them with a potato masher until the potatoes are as fine (without lumps) as possible.
2. Add coconut milk, salt and black pepper to the potatoes, stir until combined and set aside.
3. In a large skillet over medium heat, sauté red onion and red pepper in vegetable oil 6 to 8 minutes or until soft.
4. Add chicken breast, pineapple and 5 tablespoons of jerk seasoning to sautéed onions and peppers. Continue to sauté for another 4 to 6 minutes.
5. In a bowl, mix together orange juice, cold water and corn starch until the corn starch is dissolved to create a slurry.
6. Add slurry to the cooked chicken mixture and bring to a boil for 1 minute, stirring constantly.
7. Place mixture into a 13"x10" baking dish. Top with a layer with the coconut mashed potatoes.
8. In a bowl, mix together the Panko bread crumbs, melted butter, parsley, shredded coconut, and remaining 3 tablespoons of jerk seasoning and set aside.
9. Sprinkle with the bread crumb mixture and bake for 40 minutes at 400 F.