Recipes
Caramelized Onion and Goat Cheese Flatbread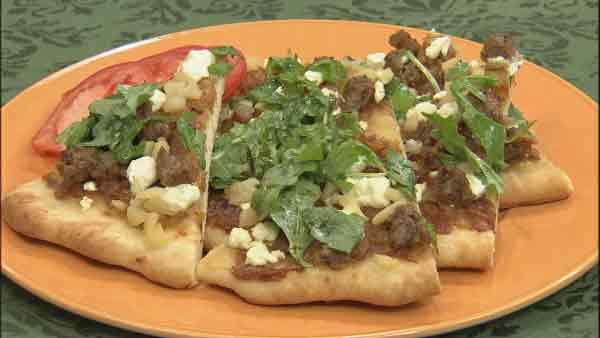 Servings: 4
Difficulty: Easy
Time:
Provided by: Chris Koetke
5 cups thinly sliced onions
3 Tablespoons butter
1/4 cup heavy cream
1 14" Boboli or other pre-cooked pizza crust
4 oz. crumbled fresh goat cheese
Directions
Additional toppings for adding before baking:
Cooked and crumbled sausage
Blue cheese
Diced canned pears
Additional toppings for adding after baking
Finely chopped prosciutto
Arugula tossed with a balsamic vinaigrette
1. In a saute pan over moderate heat, slowly cook the onions in butter until the onions are caramelized and very soft (20-30 minutes). If the onions are browning too fast, reduce heat and even perhaps add a very small amount of water.
2. Add heavy cream and reduce until the cream is thick.
3. Place Boboli on a baking sheet. Pour onion mixture on top of the Boboli. Sprinkle goat cheese on top of the onions. Sprinkle any other additional toppings to be added before baking.
4. Bake in a 400° oven for 20 minutes. Cut into wedges and serve warm. If you are going to add other toppings that go on the pizza after baking, simply sprinkle them on just before serving.