Recipes
Buffalo Burger and Turkey Teriyaki Burger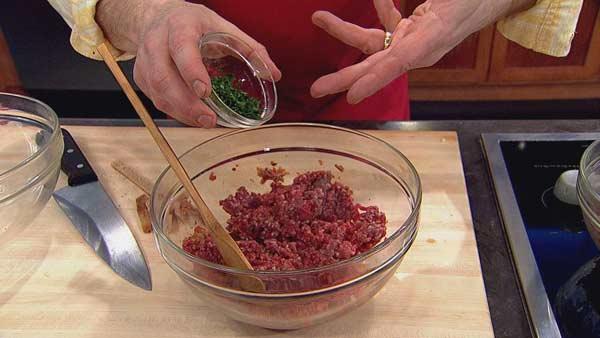 Servings: 4
Provided by: Chris Koetke
1 slice whole wheat bread, crusts removed
2 tbsp water
2 tbsp tomato sauce
1 clove garlic, crushed
1 tsp Worcestershire
1/8 tsp salt
1/4 tsp black pepper, ground
2 tbsp minced fresh herbs like parsley, basil, and/or green onions
16 ounces ground buffalo (bison) meat
4 whole wheat buns
8 slices tomato
4 slices red onion
2 tbsp ketchup
2 tsp Dijon mustard
Directions
1. Combine bread, water and tomato sauce into a homogenous mixture. Add garlic, Worcestershire, salt and pepper. Gently combine with the buffalo. Portion into four equal patties.
2. Scrape grill grate and oil grate. Place patties on grill and grill for four minutes on one side. Flip and grill and additional 4 - 5 minutes on other side.
3. Serve with whole wheat buns and traditional condiments.
Nutrition Facts:
Amount per Serving
Calories 298
Total Fat 4g
Saturated Fat 1g
Total Carbohydrates 34g
Fiber 4g
Protein 30g
Sodium 517mg
Teriyaki Turkey Burgers with Citrus
Ingredients:
1/2 tsp zest, orange
1 tbsp garlic, fresh, crushed
2 tsp shallots, minced
1 tbsp ginger root, fresh, minced
1/2 tsp pepper, jalapeno, minced
3 1/3 tbsp low sodium soy sauce
pinch red pepper flakes
2 tsp juice, lime
1 tsp honey
1 1/4 pounds ground raw turkey (white meat)
1 ounce mushrooms, shiitake, dried, reconstituted and finely minced
2 tbsp onions, yellow, raw, minced
1 egg white, beaten
1/4 cup panko
4 tsp sriracha (optional), to glaze
Method
1. Combine all ingredients in a large mixing bowl. Divide into equal portions and form into patties.
2. Pre-heat the oven to 350 degrees. Line a baking sheet with foil and coat gently with pan spray. Place the burgers on the pan and bake until the burgers are done, 20 - 25 minutes (they should reach 165 degrees on an instant-read thermometer and be firm to the touch). If glazing with the sriracha, spread it on after 10 minutes in the oven.
Makes four servings.
Nutrition Facts:
Amount per Serving
Calories 239.1
Total Fat 2.93g
Saturated Fat 0.85g
Total Carbohydrates 14.86g
Fiber 1.42g
Protein 37.36g
Sodium 671.55mg