Recipes
Brussels Sprouts and Roasted Onions with Miso Vinaigrette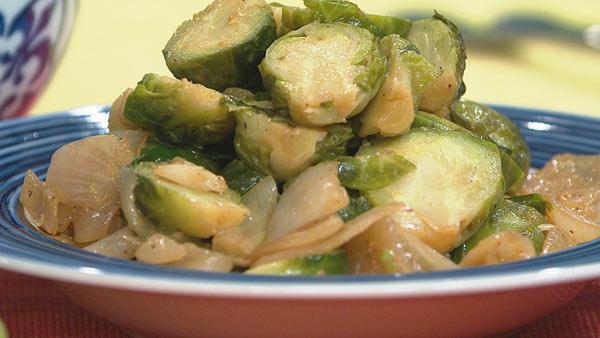 Servings: 8
Provided by: Chris Koetke
2 large Spanish onions, wrapped individually in aluminum foil
2 pounds Brussels sprouts, washed
3 Tablespoons extra virgin olive oil for sauteing the Brussels sprouts
2 garlic cloves, minced
1 Tablespoon minced parsley
Directions
1. Place onions in a 375 degree oven and cook until the onions are very soft (approximately 1 and a 1/2 hours). Remove from the oven and let cool. Remove aluminum foil, peel onions, and chop into large dice. Reserve. (This can be done a day ahead of time.)
2. Trim the base of the Brussels sprouts as minimally as possible. Remove any damaged leaves. Cut a cross in the base of the Brussels sprouts, about 1/4 inch deep. Boil in salted boiling water until tender approximately 8 - 10 minutes. Plunge into ice water until they are cold. Remove from ice water and cut Brussels sprouts in half by cutting through the bottom of the sprouts. (This can be done a day ahead of time.)
3. When ready to serve, reheat both the Brussels sprouts and onions in the microwave.
4. Saute garlic in olive oil in a large saute pan for several minutes until the garlic is cooked. Add Brussels sprouts and continue sauteing for a couple of minutes. Transfer Brussels sprouts to a large serving bowl and toss with 2/3 of the vinaigrette.
5. Toss onions with the remaining vinaigrette. Spoon onions in a ring around the outside of the bowl so that the Brussels sprouts are in the center of the bowl. Sprinkle with parsley and serve.
Nutritional Analysis: Cals: 105, T.Fat: 5gm, S.Fat: 1gm, Chol: 0mg, Sod: 27mg, T.Carb: 13gm, Fiber: 5gm, Pro: 4gm
Miso Vinaigrette
Serves: 8 Ingredients:
4 Tablespoons red miso
4 Tablespoons red wine vinegar
6 Tablespoons extra virgin olive oil
3/4 teaspoon ground black pepper
3 Tablespoons minced green onions
1. Whisk miso and vinegar together until miso is dissolved.
2. Drizzle in olive oil while whisking constantly. Add black pepper and green onions.
Nutritional Analysis: Cals: 109, T.Fat: 11gm, S.Fat: 1gm, Chol: 0mg, Sod: 314mg, T.Carb: 3gm, Fiber:1gm, Pro: 1gm