Recipes
Brunch Cocktails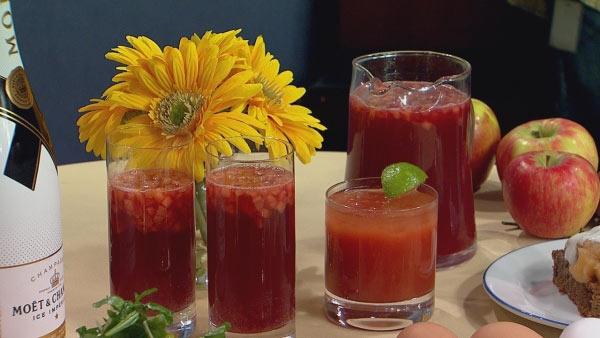 Directions
Pomegranate Fizz
Serves 3 Cups
Ingredients:
1 1/2 cups pomegranate juice;
1/4 cup orange juice
2/3 cup finely chopped fruit (i.e. apple, orange, melon, peach, etc)
2 Tablespoons sugar
1 cup sparkling water 1. Mix all ingredients except sparkling water. 2. Bring the above mixture and the sparkling water to the picnic. 3. Just before serving, add the sparkling water. Nutritional Analysis: Cals: 69 T.Fat: Tr gm S.Fat: Tr gm Chol: 0mg Sodium: 9mg Carb: 17 gm Fiber: Tr gm Pro: Tr gm

Brunch Sangria
Serves 1
1/2 cup tomato juice
1/4 cup orange juice
2 Tablespoons lime juice
1/2 teaspoon Worcestershire sauce
1/2 teaspoon sugar
A shake or 2 of Cholula
1 oz. silver Tequila
Ice cubes
1. Mix all ingredients in a rock glass. Add ice and serve.
Nutritional Analysis: Cals: 132, T.Fat: Tr gm, S.Fat: Tr gm, Chol: 0mg, Sodium: 466mg, Carb: 17 gm, Fiber: 2gm, Pro: 2gm