Recipes
Brown Rice Jambalaya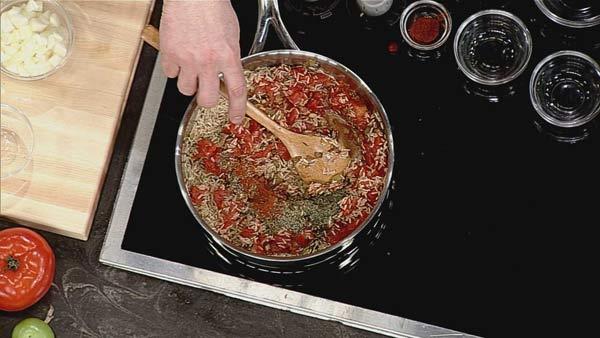 Servings: 5
Provided by: Chris Koetke
2 Tablespoons olive oil
1 large boneless, skinless chicken breast (8 oz), diced and dusted with black pepper
4.5 oz low fat poultry sausage (should be as spicy and as smoky as possible like a traditional Andouille sausage), cut into 1/2 inch slices
1/4 cup diced onion (1 small onion)
3/4 cup diced green pepper (1 medium pepper)
1/2 cup diced celery (about 1 stalk)
3 cloves minced garlic
1 pound smoked turkey wing
1 14.5 oz. can of diced tomato (no salt added)
2 cups brown rice (14 oz)
4 cups low fat and low sodium beef broth
1/2 cup water
1/4- 1/2 teaspoon cayenne (1/2 teaspoon will really make it hot!)
1/2 teaspoon ground black pepper
1 1/4 teaspoon dried oregano leaf
1 1/4 teaspoon dried thyme leaf
1/4 pound peeled and deveined shrimp
1 Tablespoon each of minced green onion and parsley
Directions
1. In a large saute pan over high heat, brown chicken in 1 Tablespoon olive oil. When browned, add sausage and cook until the sausage is lightly browned. Remove from pan and reserve.
2. Add remaining olive oil, onion, green pepper, and celery to the saute pan. Continue sauteing until the vegetables are softened and browned (5-6 minutes). Add garlic and continue cooking for another several minutes.
3. Add turkey wing, tomato, rice, broth, water, cayenne, black pepper, oregano, and thyme. Bring to a boil, reduce heat, and simmer for 20 minutes.
4. Add reserved chicken and sausage and continue simmering covered for 20 more minutes.
5. Add shrimp and simmer covered for 5 more minutes.
6. Test to be sure the rice is sufficiently cooked. Remove the turkey wing which can be used for other preparations. Stir in green onion and parsley and serve.
Nutrition Analysis: Cal 613, Total Fat 17g, Sat Fat 4g, Chol 153mg, Sodium 614mg, Tot Carb 71g, Fiber 5g, Pro 42g