Recipes
Braised Lamb Shank and Kale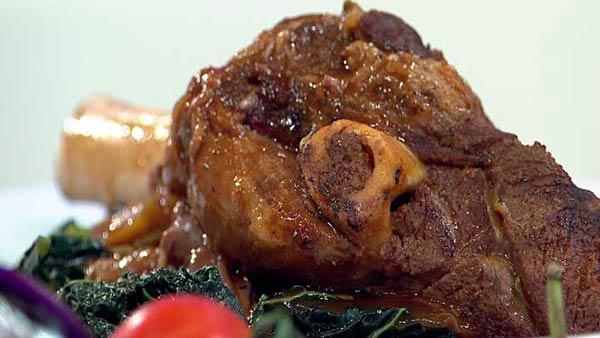 Servings: 4
Provided by: Chris Koetke
4 lamb shanks (Lamb shanks will weigh about 1 1/2 lbs each which sounds like a huge amount of meat. After you cook them you will see that much of this weight is bone)
4 Tablespoons olive oil
2 cups diced red onion
3/4 cup diced celery
8 minced garlic cloves
15 oz can tomato sauce
4 cups low sodium beef broth
1/2 teaspoons dried thyme
1 Tablespoon fennel seeds
2 teaspoons ground black pepper
1 teaspoon salt
2 Tablespoons cornstarch dissolved in 3 Tablespoons cold water
3 bunches kale
Directions
1. In a large sauce/soup pan (Choose a pan that will allow the shanks to fit snuggly in it.), brown the lamb shanks in 3 Tablespoons olive oil. It will take about 3-4 minutes per side to have a nice browning on the shanks. Remove the lamb shanks from the pan and reserve. Pour grease from pan and discard.
2. Return the pan to the stove and brown onion and celery in remaining 1 Tablespoon olive oil.
3. Add garlic and continue cooking for 1 minute.
4. Add tomato sauce, broth, thyme, fennel seeds, black pepper, and salt. Place browned shanks in the liquid. The liquid should just barely cover the shanks. If necessary, add water. Bring to a simmer over high heat.
5. Cover and place the pot in a 350 degree oven until the shanks are tender (about 2 1/2- 3 hours). (You can also simmer it on the stove over very low heat, although the oven is preferable.)
6. Wash kale well. Remove any tough stems. Boil in salted water until they are tender (about 5-10 minutes). Reserve.
7. When the shanks are tender, remove from the oven and skim off as much fat as possible using a spoon or ladle.
8. Bring the liquid back to a boil, and whisk in cornstarch/water mixture. Bring back to a boil. Add cooked kale. Simmer until the kale is hot and serve.
Nutritional Analysis:
Cals: 346 TFat: 14gm S.Fat: 4gm Chol: 77mg Sod: 689mg Carb: 24gm Fib: 5gm Pro: 32gm