Recipes
Braised Beets and Red Cabbage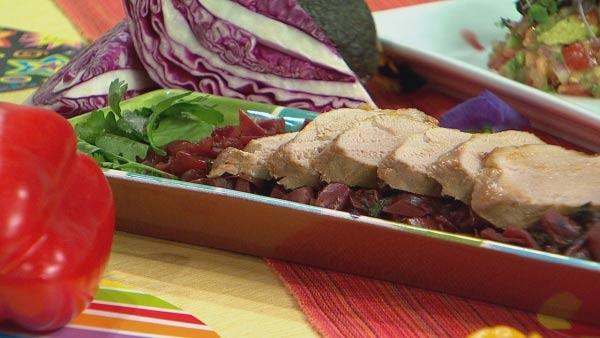 2 Tablespoons olive oil
1 large red onion, thinly sliced (about 2 cups)
3 large red beets, with greens
2 chile anchos, most of the seeds removed, and cut into small dice
1 red cabbage, cut into 1/8's, core removed and sliced into 1/2 inch slices
1 1/5 teaspoons salt
2 cups pomegranate blueberry juice
2 bay leaves
1/4 teaspoon dried thyme leaf
1/2 cup brown sugar
Directions
1. Remove green leaves from beets. Cut leaves into 1/4 strips and reserve. Discard stems. Peel and cut the beets into a small dice (about 1/4 inch in size).
2. In a large pot over moderate heat, sauté onion, diced beets and chile ancho in olive oil until the start to get tender (about 10 minutes).
3. Add cabbage and continue to sauté over moderate heat for another 5 minutes, stirring frequently.
4. Add remaining ingredients. Bring to a boil, reduce heat to a simmer. Cover and cook until the cabbage is tender (about 45 minutes). Taste and if you want it sweeter, add more brown sugar. If you like it tarter, add a touch of cider vinegar.
Nutritional Analysis: Cals: 112, T.Fat: 3gm, S.Fat: TR gm, Chol: 0mg, Sod.: 364mg, CHO: 22gm, Fib:1gm, Pro: 1gm