Recipes
Bloody Eyeball Soup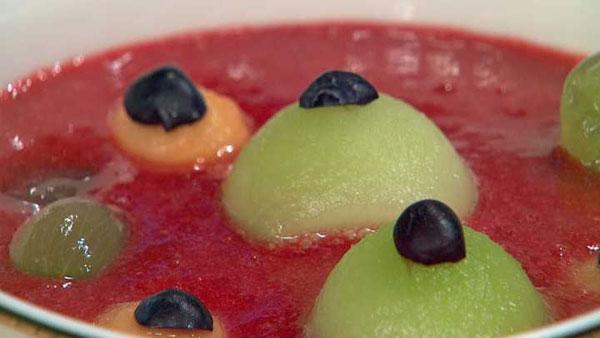 Servings: 4
Provided by: Chris Koetke
1 lb. frozen strawberries (thawed)
1/4 cup and 2 Tablespoons sugar
1/2 cup pure, unsweetened cranberry juice*
1/4 teaspoon almond extract
Assorted melons (several different colors are best)
20 blueberries
10 red peeled grapes
Directions
1. Process the strawberries, sugar, cranberry juice, and almond extract in the blender until smooth.
2. To make the eyeballs, using a large melon baller or rounded tablespoon measure, scoop out large eyeballs from the different colored melons. Leave one side slightly flat. Cut the sides from the blueberries to make the pupils.
3. Pour cold soup into large, flat bowls. Place the melon eyeball and the peeled grape eyeballs into the soup so that they are sticking out of the soup. Place a blueberry sides on each melon "eyeball."
* If only sweetened cranberry juice is available, reduce or remove the sugar from the recipe.
Nutritional Analysis: Cal: 206, T.Fat: 0g, Sat. fat: 0g, Chol: 0mg, Sod: 6mg, T. Carb: 54g, T. Fiber: 3g, Pro: 1g