Recipes
Bloody Bones on Worms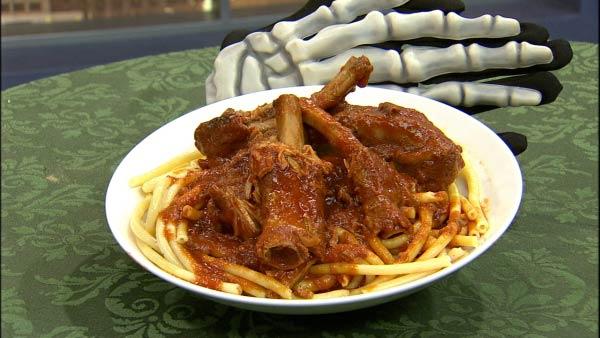 Servings: 6
Difficulty: Moderate
Time:
Provided by: Chris Koetke
6 pounds pork spare ribs, cut into individual ribs
3 Tablespoons olive oil
2 cups diced onions
1 cup diced celery
8 cups quality tomato/pasta sauce
4 cups low sodium beef broth
1 cup smoky BBQ sauce
1 lb. bucatini pasta*, broken in half
Directions
1. In a large pot, brown spare ribs in olive oil in batches over high heat.
2. When the ribs are browned, remove them from the pan and add onions and celery. Cook until softened (about 5 minutes).
3. Add browned ribs, tomato sauce, beef broth, and BBQ sauce. Bring to a boil, reduce to a low simmer, cover, and cook for 4 hours until the meat is very tender. While the ribs are cooking, stir them from time to time to be sure that they are not burning.
4. Remove the ribs from the sauce and scrape some of the meat from the tips of each bone to expose the bone. Put them back into the sauce.
5. When the ribs are done, cook the pasta in boiling, salted water until al dente. Drain, and serve the ribs and sauce over the top of the pasta.
*Bucatini looks like thick spaghetti and is hollow in the center. You can substitute spaghetti if needed.