Recipes
Black Rice Pudding and Pear Compote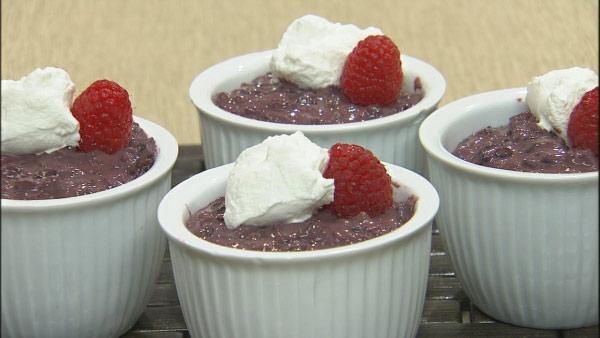 Servings: 8
Difficulty: Easy
Time:
Provided by: Chef Chris Koetke
3/4 cup short or medium grain black rice
4 cups whole milk
1/2 teaspoon vanilla extract
1 egg
1/2 cup brown sugar
5 large pears (Bartlett works great), peeled, quartered, cored, and diced
3/4 cup apple cider
1/2 teaspoon ground cinnamon
1/2 cup brown sugar
5 oz. dried cherries
Directions
Black Rice Pudding
1. In a saucepan, bring black rice and milk to a boil. Reduce heat to a simmer and cook or about 45-60 minutes or until the rice is tender.
2. In a bowl, whisk together vanilla, egg, and brown sugar.
3. Pour the egg mixture into the hot rice mixture while mixing continuously.
4. Bring back to a boil, stirring constantly. Once it boils and thickens, remove from heat and let cool slightly.
Pear and Dried Cherry Compote
1. Combine all ingredients in a suitably sized pot. Bring to a boil and reduce heat to a simmer. Stir periodically while it cooks to be sure that it is not burning on the bottom of the pot.
2. Cook for 30-45 minutes or until the pears are very tender.
3. Mash with a potato masher so as to make a chunky compote (like a chunky apple sauce).
4. Remove from heat and let cool slightly.
To complete the dish
1. Fill 6-oz cups with a layer of pear compote.
2. Top with a layer of black rice pudding.
3. Refrigerate until cold. Serve.