Recipes
Black Pepper Bacon Pork Burgers with Apple Slaw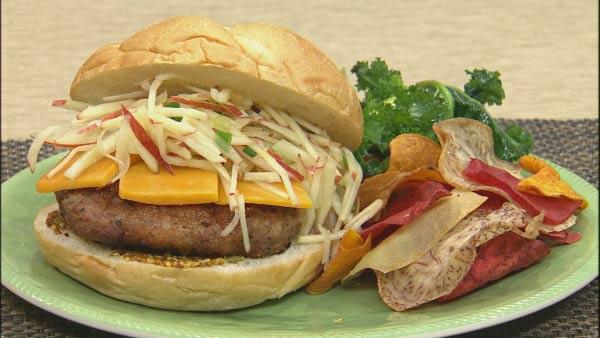 Servings: 3
Difficulty: Easy
Time:
Provided by: Chef Chris Koetke
2 red apples (i.e. Braeburn, Gala, Fuji, etc)
4 green onions, sliced thinly
3 Tablespoons white wine vinegar
4 teaspoons sugar
1 pound ground pork, very cold
1/4 pound sliced bacon, minced
2 teaspoons cracked black pepper*
1/2 teaspoon salt
Oil for cooking pork patties
3 kaiser rolls
Whole grain mustard
3 oz. extra sharp cheddar cheese, sliced
Directions
1. Quarter the apple and remove the core. Slice the apple into thin slices and then into a julienne (thin sticks).
2. In a bowl, combine apple julienne, green onions, white wine vinegar, and sugar. Let marinade for 5-30 minutes.
3. In another bowl, combine pork, bacon, black pepper, and salt. Mix well until elastic. Once it is elastic, form into 3 burgers.
4. In a sauté pan over high heat, sauté the pork patties until cooked through -- about 5 minutes per side.
5. To serve, coat the bottom of the Kaiser roll with whole grain mustard and then a pork patty. Then, top with cheese, a generous topping of the apple slaw, and the top of the Kaiser roll. Serve additional apple slaw on the side.