Recipes
Black Bean Soup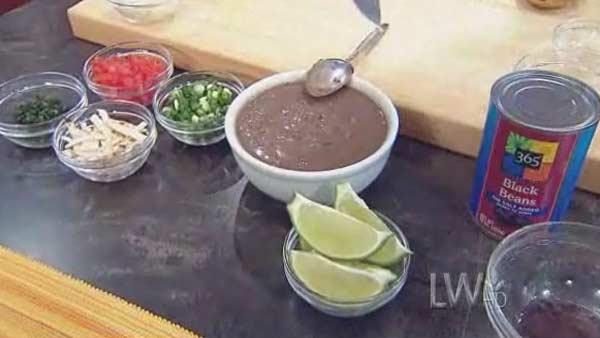 Provided by: Chris Koetke
2 teaspoons olive oil 1/2 cup onion, diced
1/4 cup green bell pepper, diced
2 tablespoons celery, diced
2 cloves garlic, minced
15 ounces canned black beans, drained and rinsed
1/4 cup white rice
1/4 teaspoon red pepper flakes
1/2 teaspoon oregano, dried
1/4 teaspoon cumin powder
2 1/2 cups vegetable broth, ready-to-serve
Directions
In a small slice pot, saute onion, green pepper and celery in olive oil. Saute until well browned. Add garlic and continue to saute for another minute.
Add remaining ingredients, bring to a boil, reduce to a simmer and cook for 15 minutes. Using a hand held blender, puree the soup until it thickens. It should NOT be completely blended.
Serve in hot bowls with garnishes served on the side. This soup is completed with various garnishes that you can add to your preference. Some examples include: chopped cilantro, diced tomato, chared pieces of tortilla, lime quarters, salsa, minced red or green onions
Per Serving (excluding unknown items): 357 Calories; 8g Fat (19.9% calories from fat); 14g Protein; 56g Carbohydrate; 13g Dietary Fiber; Omg Cholesterol; 1914mg Sodium. Exchanges: 3 Grain(Starch); 1 Lean Meat; 1 Vegetable; 1 Fat.
Christopher Koetke has been a culinary instructor at The School of the Culinary Arts of Kendall College since January 1998. In 2002, he was named Associate Dean of the Culinary School. Along with the move to the new Riverworks campus, he became Dean of the Culinary School in 2005.