Recipes
Bison Chile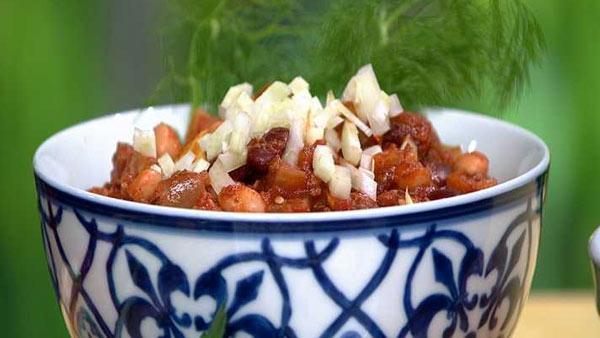 Servings: 6
Provided by: Chris Koetke
1 lb. ground bison
2 cups zucchini and yellow squash - cut into bite sized pieces
3 cloves garlic
1 small fennel bulb - cut into bite sized pieces
1 medium yellow onion - chopped small
1 15.5 oz can each kidney beans and cannellini beans - drained and rinsed
2 T chili powder
1 tsp each thyme and sage
1 tsp salt
1 tsp ground pepper
1 small jalapeñ
o pepper - chopped fine
1 large can crushed tomatoes
1 cup water
Directions
1. Brown bison in 2 teaspoons olive oil. Drain meat leaving the cooking oil in the pot.
2. In same pot sauté garlic, onion, jalapeño, and fennel with seasonings until they begin to soften.
3. Add beans, squash , tomatoes and water to pot. Add bison back.
4. Bring to a boil and reduce heat and simmer for 20 minutes.
Nutritional Analysis: Cals: 188, T.Fat: 2gm, S.Fat: TR, Chol: 35mg, Sod: 778mg, T.Carb: 23 gm, Fib: 7 gm, Pro: 22gm