Recipes
Beef Fajitas With Pico De Gallo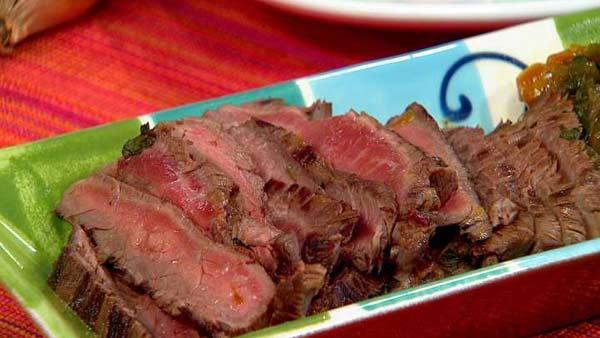 Servings: 6
Provided by: Chris Koetke
2 1/2 pounds flank steak
2/3 cup fresh squeezed lime juice (approximately 5 limes)
3/4 cup orange juice (approximately 2 oranges)
1 roughly chopped cilantro
2 jalapenos, seeded and minced
2 chipotle chilies, chopped plus 2 Tablespoons adobe sauce
5 cloves garlic, chopped
3 Tablespoons olive oil
3 teaspoons salt
2 yellow peppers, thinly sliced
2 orange peppers, thinly sliced
2 poblano chilies, thinly sliced
2 red onions, thinly sliced
1 teaspoon ground black pepper
Flour or corn tortillas
2 cups diced ripe tomatoes
1/2 cup diced red onions
1/2-1 jalapeno, minced
2 Tablespoons chopped cilantro
1/2 teaspoon salt
1/2 teaspoon ground black pepper
2 Tablespoons fresh lime juice
Directions
1. Place flank steak into a large resealable plastic bag.

2. Combine lime juice, orange juice, cilantro, jalapeņos, chipotle, adobe sauce, garlic, 1 Tablespoon oil, and 2 teaspoons salt in a medium bowl. Pour the marinade into the bag. Seal bag and massage the marinade into the steak. Marinate at least 8 hours or overnight in the refrigerator. Turn the bag over several times during this period.
3. Preheat grill or grill pan over medium high heat.
4. In a large (preferably non-stick) saute pan, heat remaining 2 Tablespoons oil over medium high heat. Once the oil is hot, add the sliced peppers and onion with remaining 1 teaspoon salt and 1 teaspoon black pepper. Cook for approximately 8 minutes or until soft and lightly brown. This can be done ahead of time and the peppers and onions can be reheated in the microwave when needed.
5. Remove the steak from the marinade and wipe off the excess marinade. Season both sides with additional salt and pepper. Place the steak onto the preheated grill. Grill for approximately 5 6 minutes per side. Flank steak should be cooked to rare or medium rare as cooking it longer will make it tough. Remove from the grill and place on a cutting board to rest.
6. Thinly slice the steak against the grain and on a diagonal. Serve immediately with tortillas and pico de gallo. (See recipe below)
Pico de Gallo
1. Mix tomatoes, red onions, jalapeno, cilantro, salt, black pepper and lime juice together.
2. Refrigerate until ready to use.
Nutritional Analysis: Cal: 452, T.Fat: 17g, Sat. fat: 6g, Chol: 58mg, Sod: 763mg, T. Carb: 47g, T. Fiber: 6g, Pro: 30g