Recipes
Basic Hamburger with Toppings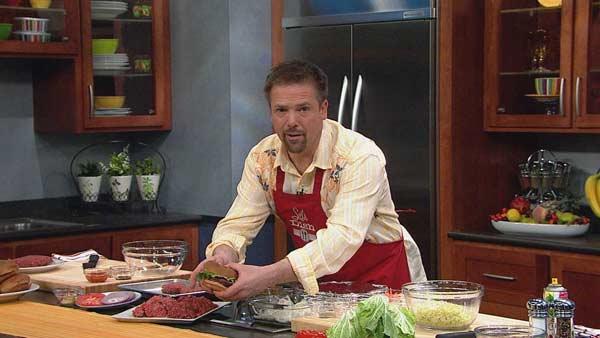 Servings: 4
Provided by: Chris Koetke
1 slice whole wheat bread, crusts removed
2 tbsp water
2 tbsp tomato sauce
1 clove garlic, crushed
1 tsp Worcestershire
1/8 tsp salt
1/4 tsp black pepper, ground
16 ounces lean ground beef
4 whole wheat buns
8 slices tomato
4 slices red onion
2 tbsp ketchup
2 tsp Dijon mustard
Directions
1. Combine bread, water and tomato sauce into a homogenous mixture. Add garlic, Worcestershire, salt and pepper. Gently combine with the beef. Portion into four equal patties.
2. Move oven rack to highest position and preheat the broiler for 15 minutes. Season burgers lightly with pepper on both sides. Broil until done to your liking, approximately 2 minutes per side for medium-rare.
3. Serve with whole wheat buns and traditional condiments.
Nutrition Facts:
Amount per Serving
Calories 398.61
Total Fat 14.78g
Saturated Fat 5.34g
Total Carbohydrates 37.72g
Fiber 3.08g
Protein 29.37g
Sodium 535mg