Recipes
Basic Bechamel White Sauce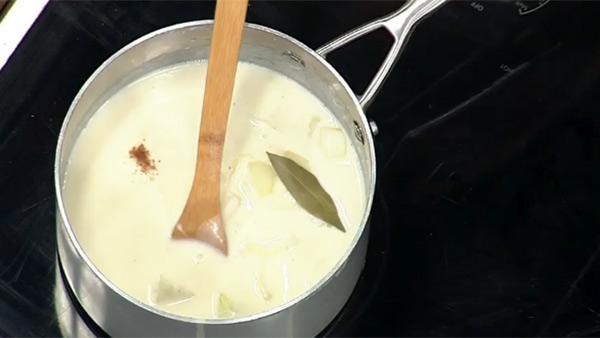 Servings: 4 cups
Difficulty: Easy
Time:
Provided by: Chef Chris Koetke
6 Tablespoons unsalted butter
1/2 cup all-purpose flour
4 cups milk
1/2 cup large diced onion
Pinch nutmeg
1 small bay leaf
Directions
1. Melt butter in a small pan. 2. Add flour and cook over low heat for 5 minutes, stirring frequently, to remove the raw flour taste. Do not allow it to brown. This is called a white roux. 3. Add milk and whisking constantly and then less frequently, bring to a boil. 4. Reduce heat to a very low simmer and add onion, nutmeg, and bay leaf. Cook for 20 minutes stirring frequently so that the sauce does not stick to the bottom of the pan and scorch. 5. Strain the sauce through a strainer and season with salt and pepper to taste and depending on the final use of the sauce. Variations:
Serve as is with vegetables.
Add different cheeses for a quick cheese sauce that is great with chicken, fish, vegetables, etc. It is also the base for cheese sauce for mac-n-cheese.
Make soup by pureeing with frozen veggies (thawed) and maybe some chicken or vegetable broth if too thick.