Recipes
Baked Stuffed Apples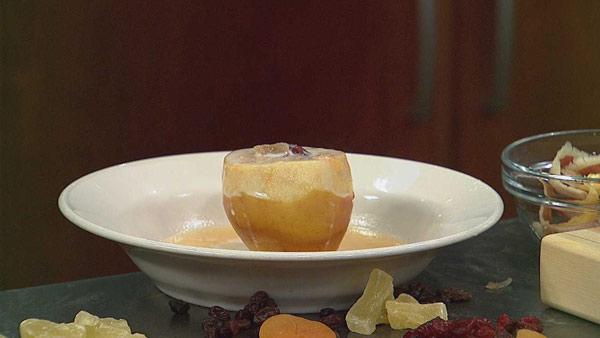 Servings: 4
Provided by: Chris Koetke
4 Braeburn apples
2 Tablespoons unsalted butter
1/2 cup sugar
1 teaspoon cinnamon
1/2 cup chopped dried fruits and nuts
3/4 cup apple cider
2 Tablespoons maple syrup
1/2 cup premium low-fat vanilla ice cream, melted
1 Tablespoon dark rum
Directions
1. Trim a 1/4" off the top of each apple. Using vegetable peeler, peel the skin off the top 1/3 of the apples.
2. With a melon baller, scoop out the core and seeds of the apples leaving the bottom intact.
3. Place 1/2 Tablespoon of butter in the bottom of each apple.
4. Mix the sugar and cinnamon together in a small bowl. Combine with dried fruits and nuts. Fill apples with this mixture by packing it tightly into the apples. Reserve any of the mixture that does not fit into the apples.
5. Place apples into a 8 X 8 microwave safe dish. Sprinkle remaining dried fruit and nut mixture around the apples. Pour the apple cider over the apples, then drizzle on the maple syrup.
6. Wrap tightly with plastic wrap. Place the dish into the microwave and cook on high for 8 to 12 minutes or until the apples are tender when pierced with a knife.
7. While the apples are cooking, you can prepare the sauce. Pour the melted ice cream into a bowl and mix in the dark rum. Refrigerate sauce until ready to use.
8. Place an apple in a serving bowl. Ladle juices around the apple. Pour sauce over each apple and serve.
COOK'S NOTES: We used a combination of cherries, apricots, cranberries and pecans. Use your family's favorite dried fruits and nuts. The variations are limited only by your imagination. You can safely melt the ice cream by placing the container in the refrigerator for several hours.
Nutritional Analysis: Cal: 486 Tot fat: 19g Chol: 45mg Sodium: 115 mg Tot Carb: 79 g Fiber: 6g Pro: 4gm