Recipes
Baked Goat Cheese with Tomatoes on Garlic Toast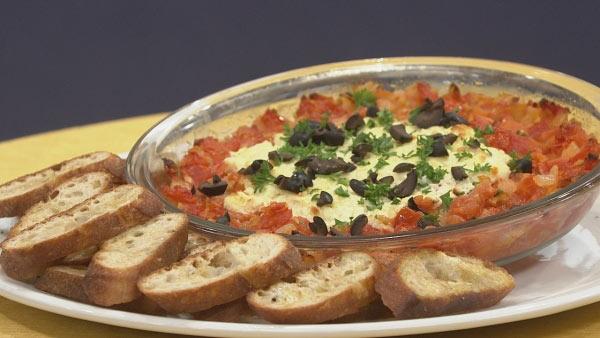 Servings: 10-12
Difficulty: Easy
Time:
Provided by: Chris Koetke
2 Tablespoons olive oil
1 cup chopped onions
1 1/2 teaspoons salt
1/2 teaspoon pepper
1 1/2 teaspoons finely chopped garlic
2 cups seeded, chopped tomatoes (approx. 2 1/2 pounds)
1 Tablespoon butter
2 Tablespoons dry sherry
12 ounces fresh goat cheese, softened
2 Tablespoons milk
1/4 teaspoon salt
Pinch of cayenne pepper
1 1/2 Tablespoons chopped black olives for garnish
1/2 Tablespoon chopped parsley for garnish
olive oil for garnish
garlic toast (see recipe below)
Directions
1. Preheat oven to 400 degrees.
2. Heat 2 tablespoons of oil in a pan over medium high heat; add the chopped onions, salt and pepper. Cook onions until soft, about 5 minutes.
3. Stir in the chopped garlic and cook for an additional minute.
4. Add the tomatoes, sherry and butter to the pan and cook until just soft, about 5 minutes. Set aside.
5. In a bowl, place the goat cheese, milk, salt and cayenne pepper and mix until creamy.
6. Using a 9" glass pie pan, form a disk with the goat cheese mixture in the center of the dish.
7. Spoon the tomato mixture around the goat cheese.
8. Bake for 15 to 20 minutes or until the goat cheese starts to melt.
9. Remove from the oven and sprinkle the black olives and chopped parsley over the top of the dish. Drizzle with extra virgin olive oil.
10. Serve with garlic toasts.
Garlic Toasts:
1 baguette cut into 1/4 inch slices
1/4 cup olive oil
1 clove garlic
1. Preheat oven to 350 degrees oven.
2. Brush both sides of the baguette slices with olive oil. Bake for 10 minutes or until lightly brown.
3. Remove from the oven and rub each slice with the garlic clove.