Recipes
Bahamian Conch Chowder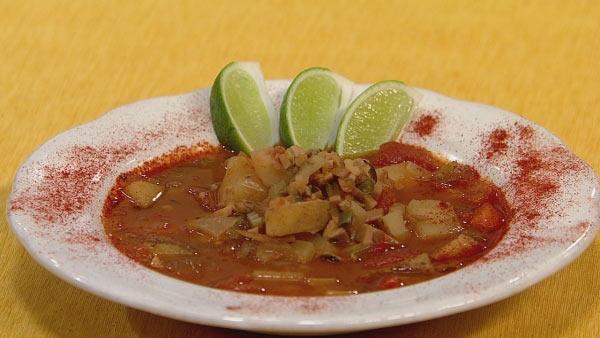 Servings: 8
Difficulty: Easy
Time:
Provided by: Cliff Hagerman of Trader Todd's
Olive Oil - 2 1/2 Tbsp
Conch Meat, chopped - 1 pound
Garlic, minced - 2 Tbsp
Onions, diced half inch - 1 1/2 cups
Carrots, diced half inch - 1/2 cup
Celery, diced half inch - 1/2 cup
Potatoes, diced 1 - 1/2 cups
Thyme, fresh - 2 tsp
Oregano, fresh - 1 tsp
Bay Leaves - 3
Allspice - 1/4 tsp
Cayenne Pepper - 1/4 tsp
Apple Cider Vinegar - 2 Tbsp
Homemade Chicken Stock - 5 cups
Clam juice - 2 cups
Tomatoes, diced 1 - 1/2 cups
Tomato paste - 6 oz
Salt and Pepper to taste
Directions
1. In a large stock pot heat the olive oil until very hot.
2. Add the conch meat; sear for 1 to 2 minutes. Then, add the garlic, onions, celery, carrots, and potatoes and saute for another 2 minutes.
3. Deglaze pot with apple cider vinegar and lower heat.
4. Add chicken stock, clam juice, tomatoes, tomato paste. Return to a boil while stirring to mix ingredients well; then reduce to simmer.
5. Let chowder simmer until potatoes are tender. (We like to let ours simmer for at least 35 minutes for flavors to mingle.)
6. Add salt and pepper to taste.
7. Serve hot with crackers.