Recipes
Asparagus Mornay Pizza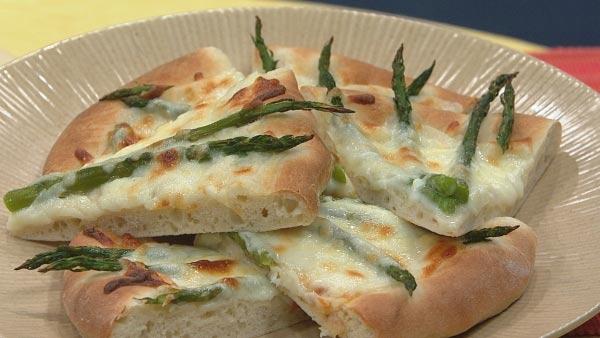 Servings: 8 SLICES
Difficulty: Easy (Dough: Moderate)
Time:
Provided by: Father Dominic
12 oz. American style
1 pound young asparagus spears
1 cup chicken stock or broth
1/2 to 3/4 cup mornay sauce
2 oz. sliced black olives
4 oz. ham, diced or cut into strips
4-6 oz. Swiss cheese
Directions
1. Rinse asparagus spears and cut them into 6" lengths; use the top halves and save the bottom halves to make soup.
2. Bring 1 cup of chicken stock to boil over medium heat in a large skillet with a lid. Lower heat to medium and add the asparagus spears. Cover and let steam for 2 minutes. Remove from heat and drain off liquid immediately.
3. Roll or stretch dough out to 12" to 14" and place on a pizza peel dusted with cornmeal. Spread sauce on the crust and top with ham.
4. Arrange asparagus like spokes on a wheel with the spear tips facing outward.
5. Sprinkle 2 oz. of sliced olives over all, and top with shredded Swiss cheese, or slices torn into small pieces.
For more information on Father Dominic, his book, and his pizza, check out www.reedypress.com.
I have made this pizza for monks, teenagers, culinary students and guests at a fancy wine party and everyone has loved it, even some people who don't care for asparagus. It might be a good way to introduce a new vegetable to children -- it they won't eat it, at least fake disappointment as you devour it all yourself.
The steaming of the asparagus in chicken stock adds a nice flavor and softens the asparagus slightly, but this step isn't absolutely necessary. By the way, use this method of parboiling asparagus, broccoli, or cauliflower in chicken stock when you are serving these vegetables as a side dish and you won't need a cheese sauce or much additional seasoning.
The arrangement of the asparagus necessitates a wedge cut rather than squares. If you are serving this as an appetizer, consider cutting the asparagus into 1" to 2" pieces and spreading them evenly. Then you can make smaller square portions, also known as a "party cut."