Recipes
Asian Marinated Salmon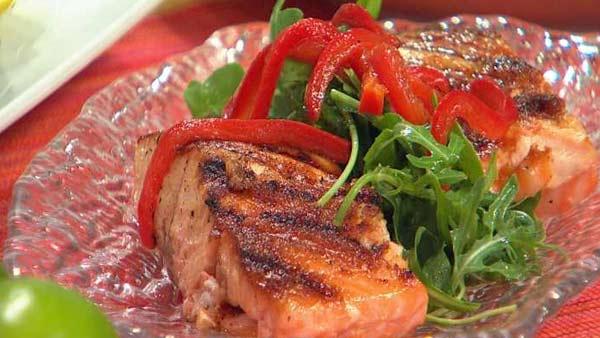 Provided by: Chris Koetke
1/3 cup low sodium soy sauce
1/2 cup finely chopped cilantro (leaves and stems)
3 Tablespoons freshly grated ginger root
3 Tablespoons minced lemongrass
4 teaspoons sambal olek (chili garlic paste)
3 Tablespoons mirin
1 Tablespoon sesame oil
Four 6 oz. fillets of skinless salmon
Pan spray
2 Tablespoons minced cilantro leaves
1 Tablespoon minced pickled ginger
Directions
1. In a blender, process soy sauce, 1/2 cup cilantro, ginger, lemongrass, sambal olek, mirin, and sesame oil until smooth. Pour into a bowl and add salmon. Marinate for 6-12 hours in the refrigerator.
2. When ready to grill, remove from marinade and lightly dry surface of the fish. Spray fish with a pan spray. Grill on a hot and very clean grill.
3. Sprinkle fish with 2 Tablespoons cilantro and pickled ginger before serving.
Nutritional Analysis:
Cals: 213, Tfat: 7gm, Sfat: 1gm, Chol: 88mg, Sod: 269mg, Carb: 1gm, Fib: Tr, Pro: 34gm