Recipes
Apple Squares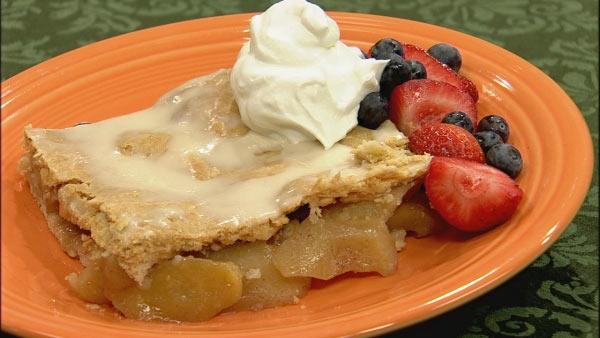 Servings: 12-15
Difficulty: Moderate
Time:
Provided by: Chef Chris Koetke
4 1/2 cups sifted flour
1 teaspoon salt
2 pinches baking powder
1 3/4 cups shortening
5 egg yolks
1 cup plus 2 Tablespoons cold milk
16 cups peeled, sliced apples
1 3/4 cups sugar
1 Tablespoon ground cinnamon
1 cup powdered sugar
2 Tablespoons milk
1/4 teaspoon vanilla extract
1/2 stick butter
Directions
1. To make the dough, in a bowl, combine flour, salt, and baking powder.
2. Add shortening and mix together just until the shortening in incorporated. There should still be small pieces of shortening in the dough.
3. Add egg yolks and cold milk to the dough. Mix just until incorporated being careful not to over mix. If the dough is too dry, a small amount of additional milk can be added. Let rest for 30 minutes.
4. To make the filling, combine all ingredients -- apples, sugar and cinnamon -- in a bowl. Taste to see if additional sugar should be added.
5. Combine all ingredients in a bowl.
6. To assemble the apple squares, divide dough in half; roll out half the dough to fill 11" x 17" jelly roll pan. Be sure to have the dough go up the sides and hang over slightly. If it is too difficult to roll one large piece, 2 smaller ones can be rolled out and then pressed together in the pan.
7. Fill the pan with the apple mixture. Dot the top of the apples with small pieces of butter.
8. Roll out remaining half the dough to cover apples in pan. Be sure to crimp the edges of dough well to form a tight seal. Poke the top dough multiple times with a fork.
9. Place in a 375 degrees F and bake for 50-60 minutes. Be sure to put a pan under it in the oven to catch any drips. If the edges start to brown too fast, you can cover them carefully with a small piece of aluminum foil.
10. Remove from oven and let cool.
11. Once it has cooled, drizzle with icing.
12. Cut into squares and serve with vanilla ice cream.