Recipes
Apple Dumplings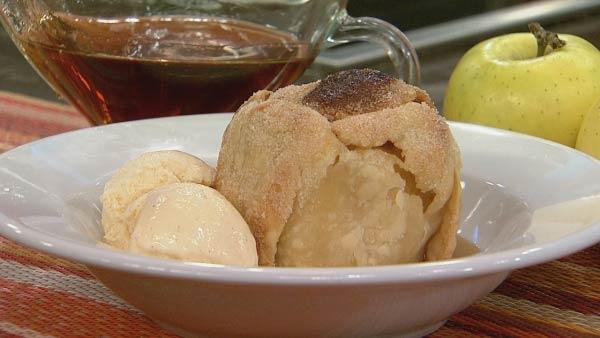 Servings: 6
Difficulty: Moderate
Time:
Provided by: Chris Koetke
6 medium Golden delicious apples
8 Tablespoons brown sugar
3 Tablespoons raisins
Cinnamon
3 Tablespoons butter
Egg wash (1 egg mixed with 1 Tablespoon of water)
Sugar
15 oz. pie dough*
1 cup warm real maple syrup
Vanilla ice cream
Directions
1. Peel apples and using a melon baller, remove the core of the apples by scooping down from the stem of the apple. Do not cut through to the bottom of the apple.
2. Fill each apple with brown sugar and raisins. Sprinkle with cinnamon and top with the piece of butter.
3. Roll the dough until thin. Cut circles large enough to wrap each apple so that the seam is on the bottom of the apple.
4. Brush each apple with egg wash and roll in sugar. Place on a greased baking sheet.
5. Bake in a preheated 400 degree oven for about 40 minutes or until the dough is nicely browned.
6. Remove from oven and let cool slightly before serving. The apples may "sink" a bit as they cool which only makes them look more rustic and inviting.
7. Serve each apple in a bowl with a bit of maple syrup poured around it and a scoop of ice cream on the side.
*If you are using store-bought pie dough which is already rolled out, roll the dough a bit more and then you can typically get 2 apples from a piece of dough. Assemble the remaining scraps into another circle, more or less, give it a quick roll, and use it for another apple.