Recipes
African Spice Rubbed Pork Tenderloin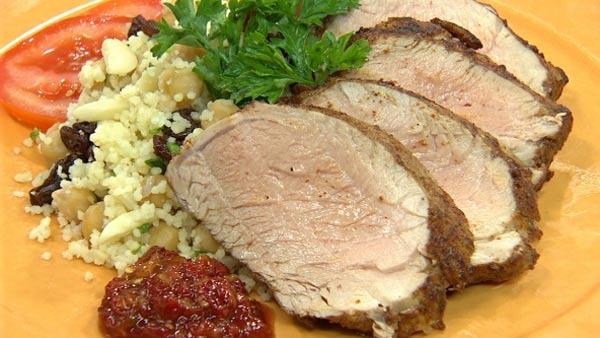 Servings: 6
Difficulty: Moderate
Time:
Provided by: Chris Koetke
2-1/2 teaspoons sweet paprika
1-1/2 teaspoons cumin
3/4 teaspoon ground black pepper
3/4 teaspoon ground coriander
1/2 teaspoon cayenne pepper
1/2 teaspoon powdered ginger
1/2 teaspoon powdered saffron
1-1/2 teaspoons ground cinnamon
1-1/2 garlic cloves, minced
Grated lemon rind from 1/2 lemon
1-1/2 teaspoons brown sugar, don't pack
2 teaspoons salt
2 pork tenderloins (12 16 ounces each)
2 Tablespoons vegetable oil
Couscous to accompany (recipe to follow)
Harissa as a garnish (Harissa is a Moroccan chile and spice paste)
Directions
1. Mix all the spice rub seasonings in a bowl. Stir until well combined.
2. Remove any exterior fat or membranes from the pork tenderloin. Rub the tenderloin with remaining spice rub. Wrap the tenderloin in plastic wrap and refrigerator for 1 2 hours.
3. Preheat oven to 400°F.
4. In an ovenproof skillet over high heat, bring the vegetable oil to the smoking point. Place the pork in the pan and sear all sides of the tenderloin until nicely browned, approximately 1-2 minutes per side.
5. Roast the pork tenderloin in a 400° F oven for about 25 minutes or until it registers 155° F with an instant read thermometer.
6. Remove from oven and let rest for 10 minutes before slicing. Slice and serve with couscous.