Let's Dish
Christopher Koetke
Host of 'Let's Dish'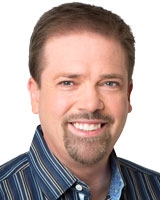 Christopher Koetke is the host of "Let's Dish." He has been a culinary instructor at
The School of the Culinary Arts of Kendall College
since January 1998. In 2002, he was named Associate Dean of the Culinary School. Along with the move to the new Riverworks campus, he became Dean of the Culinary School in 2005. He is now Executive Director of the Culinary School at Kendall College.
Christopher began cooking professionally in 1982, starting at local restaurants in his hometown, Valparaiso, Indiana. He soon moved to Chicago and procured a position at L'Escargot on Halsted. Eager to expand his knowledge of fine cuisine, Christopher traveled to France where he worked in some of the country's finest kitchens: Pavillon Elysees, Pierre Gagnaire, Taillevent and Pierre Orsi. While there, he also made time for his second passion, wine. In Paris, he studied at L'Academie du Vin and with L'Association des Sommeliers de Paris. The last term of his European employment was spent honing his pastry skills at Patisserie Mage in Geneva, Switzerland. Upon his return to the United States, Christopher began a 5 year tenure at the world famous Le Francais in Wheeling, Illinois. During this time, Christopher finished third in the U.S. finals of the Bocuse d'Or culinary competition.
In 1992, Christopher became the Executive Chef of Chicago's Les Nomades restaurant. During the 5 years at Les Nomades, the critics and the public responded favorably to his cuisine: 3 stars--Chicago Tribune; 19.5/20--Sherman Kaplan; 26 points for food (excellent to perfect)--Zagat Survey; twelfth restaurant in Chicago--Gourmet magazine; ninth restaurant in Chicago--Wine Spectator; and 3 stars--Chicago Magazine. Also during this time, Christopher was voted Chef of the Year (1997) by the Chicago chapter of The International Food and Wine Society, and was the national winner of the Mapleleaf Duck Competition (1997).
Christopher is a noted ice carver and was associated with one of the nation's foremost ice carving companies, Nadeau's Ice Sculptures, for 16 years. He has also consulted for companies such as The Soyfood Council, Todd and Holland Tea Merchants, The Pampered Chef, Char Broil, and the Turover-Strauss Group. Christopher co-founded www.ChefTalk.com and for 4 years was a contributing editior to Chef, Fancy Food, Culinary Educator Today, and Local Palate publications. He has a B.A. degree in French literature from Valparaiso University, a MBA from Dominican University and a Certificat de la Langue Francaise from the Sorbonne in Paris. He was also voted Chef Educator of the Year in 2009 by the Windy City Chapter of the American Culinary Federation.
Christopher is a frequent speaker at a wide range of forums. He has presented at the American Cheese Society's national convention, International Association of Culinary Professional's national conventions in San Diego and Montreal, the Chicago Dietetics Association, the Ohio Dietetics Association, and the Ecole Hotellier de Marseilles/Provence, the American Dietetics Association conference in San Antonio, the Research Chef Association conferences in Montreal and Houston, the American Culinary Federation conference in Orlando, Pampered Chef national conferences, and the leadership conference for CAFÉ. Christopher also presented in Tokyo, Japan with the Iowa Department of Agriculture and in Mexico City on behalf of MIATCO. He is a frequent guest on WGN (previously weekly for 2 ˝ years) and ABC TV in Chicago and a frequent guest on Chicago's WGN food time radio show. He has recently filmed over 150 video segments that run in over 5000 Albertson's stores and has filmed educational videos for the Soyfoods Council, National Pork Board, and Idaho Potato Commission. Christopher is a board member on the Dairy Board Innovations Center, Illinois Restaurant Association Educational Foundation, Plitt Fisheries, American Culinary Federation Foundation Accrediting Commission, Slow Food Chicago, and founding board member of the Greater Midwestern Foodways Association.