Knock It Off! Episodes
PVC Pergola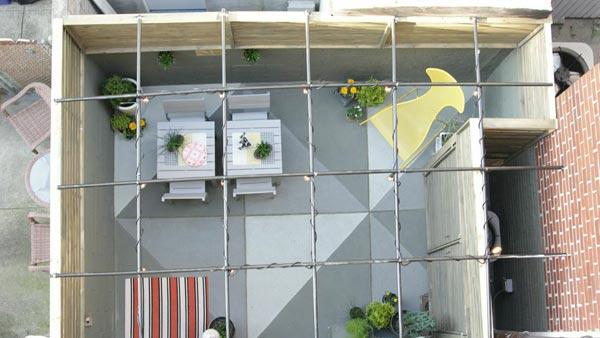 Monica and Jess work out an interesting Pergola idea for the back patio using PVC piping. With an upscale urban cafe look, it works perfectly in the city and provides more lighting.
Materials Needed:
2 Inch PVC pipe
3 Steel rods
Zip ties
Spray paint
Chop saw
PVC pipe connectors
Outdoor electrical wiring and sockets (found online),
Edison bulbs
Measuring tape
Scissors
1. Measure your space and figure out the grid pattern. The patio we were working on was roughly 10 ft x 15 ft, so our grid ended up being 3 PVC pipes that ran the length of the patio and 5 that ran the width. That meant we had 15 intersection and needed 15 sockets. Plan your materials accordingly.
2. Cut the PVC using the chop saw to get the appropriate length for your grid. We only had to cut one piece to create extender pieces for the long side of our grid. To lengthen the PVC, screw a connector onto the full-length PVC and then screw a small piece of PVC to the other side of the connector.
3. We really wanted to avoid any sagging in the middle of the grid, so we threaded 3 steel bars through the middle three pieces that ran the width of the patio. You'll never see these, but they offered a ton of support. This meant the three pieces that ran the length of the patio would lay on top of the pieces that ran the width.
4. Lay the PVC on the ground and arrange them in their approximate locations. Remember to keep the PVC with the steel bars on the bottom. Use a measuring tape to find the exact location of each intersection and then wrap a zip tie around and pull tight. Wrap another zip tie around the intersection in the opposite direction so that the ties form an 'X' and pull tight. Repeat for every intersection.
5. PVC Pergola: Spray paint the entire PVC grid with hammered metal spray paint to mimic the look of real metal.
6. To attach our pergola above the back patio, we laid it directly on top of the new privacy walls and screwed in round brackets that wrapped around the pipe and went into the privacy screen. We added a ledger board to the house, painted it to match the house and then repeated the process with brackets.
7. Now for the fun part! We wrapped the outdoor electrical wire around the pipe and at every intersection, dropped a socket down. We used zip ties again to hold the wire in place. We snipped the long ends of the zip ties with scissors so that you don't see them. Finally, we screwed in edison bulbs and were done! Another fabulous and inexpensive project that really helped set the mood for this patio!