Knock It Off! Episodes
How to Make Slip Cover for Bean Bag Chair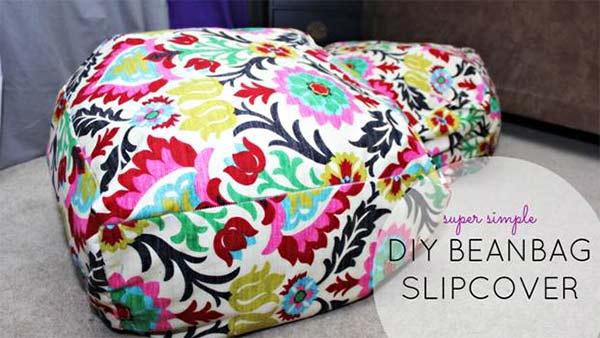 Need some inexpensive moveable seating for guests when you entertain? Here's an easy solution: slipcovers for cheap beanbag chairs. Buy them during back-to-college sales and cover them with fabric that matches your decor.
Bean bag chairs can be an awesome way to add additional flex seating to a room. Unfortunately, the cute patterned ones always cost a ton! We purchased inexpensive (and ugly) bean bag chairs and made our own fun, slipcovers using awesome fabric from the clearance aisle. To make your slipcovers extra durable, consider using a serger rather than a sewing machine. If you're using a sewing machine, make sure to carefully measure your seam allowances, making them even on all sides of the fabric, so that the pieces fit together. Here's what you'll need:
bean bag chair
home decor weight fabric
sewing machine or serger
fabric scissors
velcro (optional)
thread
1. Measure your bean bags and determine the length and width of each side and the top and bottom. Add an inch to each of your measurments for looseness and seam allowances You'll need to cut a rectangle of fabric for four sides, and two squares - one for the top and one bottom piece. 2. Mark your side panels 1,2,3 and 4. With right sides together, sew the side of panel 1 to the side of panel 2 with a half inch seam allowance. Repeat this, sewing panel 3 to panel 2, and then panel 4 to panel 3. You should have a long line of panels that would wrap around your bean bag chair (don't sew them in a circle just yet). 3. With right sides together, sew one side of the top panel to one open side of panel 2. Repeat with bottom panel on the opposite open side of panel 2. 3. Repeat this process, sewing the top and bottom panel to panel 3 and then panel 4. 4. Then, sew the bottom panel to the bottom of panel 4. 5. Turn the slipcover inside out and insert your bean bag. 6. To make the slipcover removable, cut a strip of velcro the length of the remaining seam. Sew the velcro to the inside of the top panel, folding the edge of the fabric over just slightlyto make a clean hem. Sew the other side of the fabric to the remaining open side panel. Connect the velcro to close your slipcover. 7. To make a non-removable slip cover, fold the edges of the seams in and hand stitch the seam closed.