Knock It Off! Episodes
DIY Wood Privacy Screen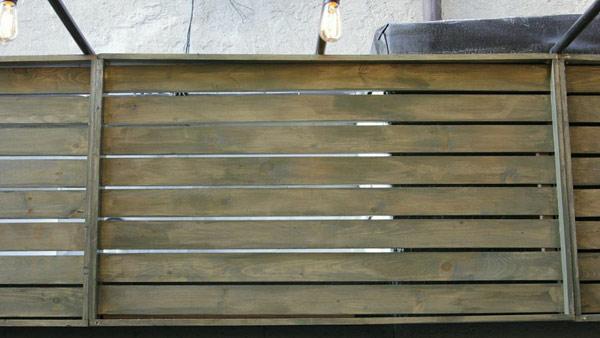 This urban patio had not much more than three concrete walls and a concrete floor. To hide the chain link fence and unsightly walls on either side of the homeowner's patio, Monica and Jess made some modern privacy screens that improved the style and stayed within budget.
Materials Needed:
1x4x10 Pine (you'll need to figure out how many based on the space)
Drill
Stain
Chop saw
1. Determine the length of the screen you need. Our screens were 3 feet tall and 10 feet long on the width of the patio. Cut (1) 1X4 into two 3 feet pieces using the chop saw. Keep two pieces 10 feet long.
2. Build a frame with the 3 foot pieces and 10 foot pieces. Instead of a picture frame where the pieces lay flat, build the frame so that the cross pieces will sit inside the frame.
3. Place another 1X10 inside the frame 1/4 inch away from the bottom and screw into the frame from the outside. Continue by placing another 1X3 1/4 of an inch above the previous plank. You may have to tweak the spacing to fit the size of your privacy screen so that they are evenly spaced.
4. Finish up by staining the wood in your desired color. We mixed two stains together to get our stain color- an olive green and gray stain.
5. Attach the wood screen right on top of the concrete wall and screw into place. What a huge difference this project made for this space!